Kombucha Cocktail: Cosmopolitan. The ultimate cosmo, made with cranberry kombucha instead of sugary cranberry juice for a fizzy probiotic boost that tastes amazing!
My birthday is next week – it's actually Memorial Day and that means it's cocktail time! I've gotten into the fun tradition of sharing one of my favorite drinks with you on or around my birthday.
2015 – Didn't share one because I had a new baby and was still nursing but let's talk about my Skinniest Skinny Margarita because it's that damn good.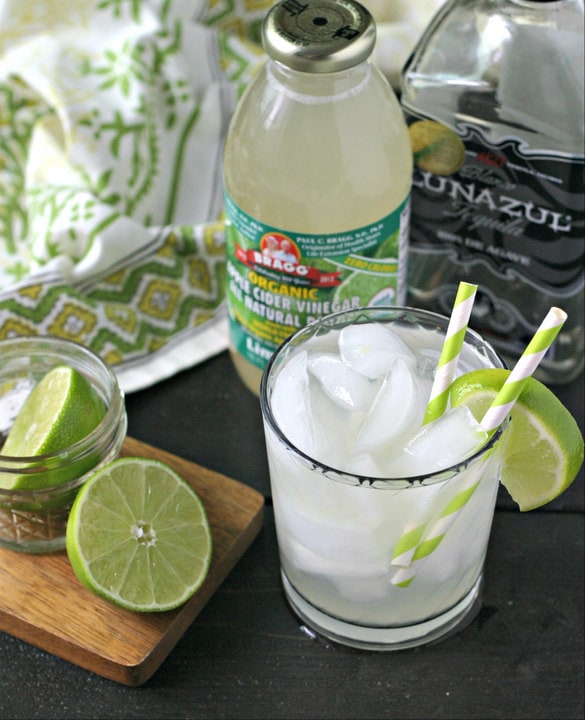 Since I know so many of you are planning some fun BBQ's and celebrations this weekend for Memorial Day, I wanted to share my latest favorite cocktail with you – the Kombucha Cosmopolitan!
I have been experimenting with replacing juices and other mixers with Kombucha for a while now and I love it. For this cosmopolitan, I used cranberry kombucha instead of sugary cranberry juice. If you like your drinks sweet, you could add a drop or two of stevia but I don't think it needs it.
As for the kombucha, here is my tutorial on How To Brew Kombucha at home (easy!) or just pick up a bottle of your favorite brand Cranberry Kombucha (I like GT's since theirs is low in sugar and tastes great).
So, what are you doing for Memorial Day weekend!?
Alyssa Brantley | EverydayMaven
Yields 1
Kombucha Cocktail: Cosmopolitan
5 minPrep Time
5 minTotal Time
Ingredients
1 1/2 ounces gluten free vokda
1 ounce orange liqueur
1/2 large lime, juiced
3 ounces cranberry kombucha tea
ice
lime twist for serving (optional)
Instructions
In a cocktail shaker or large mason jar, combine all ingredients over a generous amount of ice. Place lid on and shake vigorously.
Strain into a chilled glass and serve immediately with a lime twist.
7.8.1.2
2892
https://www.everydaymaven.com/kombucha-cocktail-cosmopolitan/
Recipe and Photos Copyright of EverydayMaven 2011-2019