These easy Paleo Salmon Cakes are loaded with flavor and can be pan-fried or baked in the oven. You can freeze the salmon cakes before or after cooking!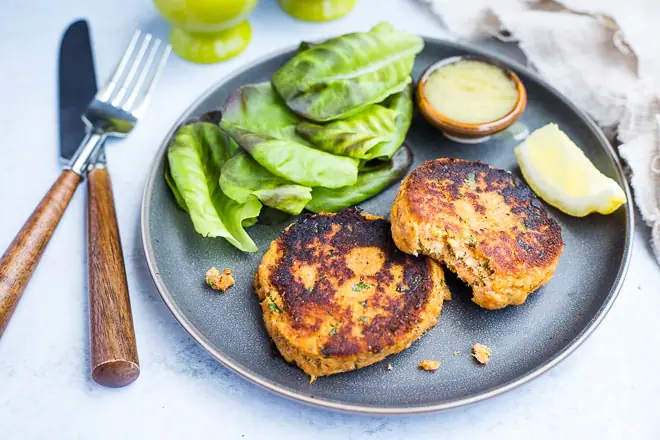 Paleo Salmon Cakes
Salmon Cakes are somewhat of a comfort food to me. Growing up, at least one lunch a week was either a salmon cake or a fish cake. Where we lived, this was commonplace and also something that my grandmother loved to eat for lunch and to feed to us.
While the childhood salmon cakes I remember were indeed made with canned salmon, that is probably where the similarities to my version end. These paleo salmon cakes take everything you love about this classic comfort food and turn it into a healthy dish you can enjoy guilt-free.
The salmon is mixed with sweet potato, plenty of herbs and spices, and even some hot sauce for a nice little kick, all pan-fried in coconut oil or Ghee to still give you that amazing crunchy exterior that we all love about traditional salmon cakes.