These Garlic Rubbed Roasted Cabbage Steaks are one of the most popular recipes on my site for a reason! They are EASY, absolutely delicious, naturally Vegan, Gluten Free, Low Carb and are a versatile side dish that goes with just about anything!
Originally Posted: December 2nd, 2012 | Updated: August 22nd, 2018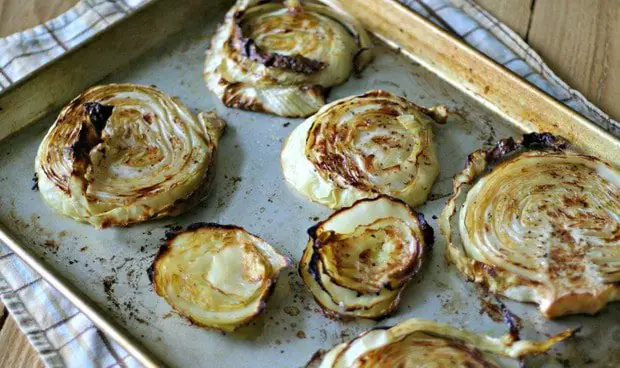 I don't remember where I originally saw roasted cabbage steaks, maybe on Pinterest, maybe in Everyday Food Magazine, either way I know it was Martha Stewart who first implanted this idea in my head and it is genius. So, thank you Martha!
If you love cabbage, you are going to freak out about how good this is. Endlessly versatile and truly a side dish that goes with everything, my Roasted Cabbage Steaks are always a winner. In the Fall, I like to pair with Foolproof Roast Chicken recipe and green salad for an easy dinner.
Now, if you are on the fence about cabbage, you need to try this because this might be the recipe that converts you to a cabbage lover. Just ask anyone who has tasted the caramelized cabbage leaves and crispy edges!
This is a simple side dish worthy of a dinner party and couldn't be easier to make.
Four ingredients, a couple of minutes to prepare and toss in the oven for an hour.
Adapted From: Martha Stewart Roasted Cabbage Wedges
What are Cabbage Steaks?
Cabbage steaks are the result of taking a large head of cabbage and cutting from root to top into thick slices otherwise known as "steaks". You can then season and bake or grill the steaks for a delicious way to prepare cabbage!
Do you have to use green cabbage for Cabbage Steaks?
Nope!! You can use red cabbage or any other round head of cabbage you can find.
How do you reheat Cabbage Steaks?
The best way to reheat cabbage steaks is to place in a hot cast iron or stainless frying pan for a few minutes per side (medium-low heat) to reheat through. You can microwave them but just know that any crispy edges will get soggy.
Did you make this recipe? Please give it a star rating below!
Garlic Rubbed Roasted Cabbage Steaks
2 Points Plus Per Serving -- Serves 4
Cuisine:
American, Mediterranean, vegan, vegetarian
Keyword:
cabbage, cabbage steaks, how to make cabbage steaks, side dish, vegan, vegetarian
Ingredients
1

2 pound

head of organic green cabbage

cut into 1" thick slices

1.5

T

extra virgin olive oil

3

large

garlic cloves

smashed

kosher salt

freshly ground black pepper

spray olive oil
Instructions
Preheat oven to 400F and rub baking sheet with olive oil (or spray with non-stick cooking spray). Pull outer leaf off cabbage (it's usually dirty and nasty looking), cut cabbage from top to bottom (bottom being root) into 1" thick slices.

Rub both sides of cabbage with smashed garlic.

Use a

pastry brush

to evenly spread the olive oil over both sides of the cabbage slices.

Finally, sprinkle each side with a bit of kosher salt and freshly cracked black pepper.

Roast on the middle rack for 30 minutes. Carefully flip the cabbage steaks and roast for an additional 30 minutes until edges are brown and crispy. Serve hot and Enjoy!
Nutrition Facts
Garlic Rubbed Roasted Cabbage Steaks
Amount Per Serving (1 cabbage steak)
Calories 47
Calories from Fat 45
% Daily Value*
Total Fat 5g 8%
* Percent Daily Values are based on a 2000 calorie diet.