Have you ever wanted something really bad and not been able to have it? Well, my husband did, and what he wanted was these shrimp.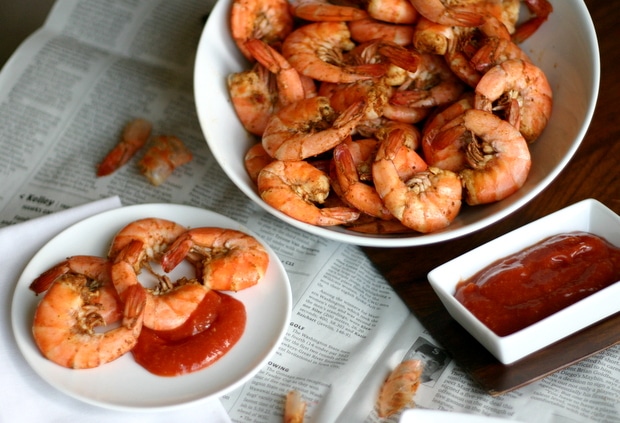 See, at his 16th birthday party,  he found out that he was allergic to shellfish, not mildly, but anaphylaxis-carry-an-EPI-pen-emergency-hospital-admission type of allergic. Now that I am a parent, I cringe to think of the horror that my mother-in-law had to endure when she saw her son start to have trouble breathing and not understand why. Yikes right!?!
Fast forward to many years of avoiding shellfish at all costs while still being a good-enough sport to sit through clam bakes, crab-eating trips to Baltimore and a road trip through coastal Maine where someone made said person who is allergic to shellfish stop at every roadside stand in view for real clam chowder. All the while, all he wanted was a big bowl of Old Bay Shrimp.  To sit and eat them, dirty fingers and all, in peace, with some spicy cocktail sauce.
After we had our son, our son's pediatrician suggested that my husband get re-tested for his shellfish allergy, because apparently you can "out-grow" your allergy.  Who knew?
Yep, you guessed it – Mr. EverydayMaven (LOL!) is no longer allergic to shellfish or any food for that matter.  We found this out about a year ago and I am embarrassed to admit I just finally got around to making this for him.
And, yes, he loved it.  And ate one pound by himself in peace, dirty fingers and all.
NOTES:
Alyssa Brantley
Yields 4
Old Bay Peel 'N Eat Shrimp + Cocktail Sauce
6 Points Plus Per Serving -- Recipe Serves 4 -- Individual Serving is 1/2 lb of cooked shrimp (5 PP) + 2 Tablespoons and 2 teaspoons of Cocktail Sauce (1 PP)
5 minsPrep Time
5 minsCook Time
Ingredients
FOR SHRIMP:

1 cup apple cider vinegar (or beer)
8 cups water
1/3 cup Old Bay seasoning + 1.5 tablespoons for tossing
3 to 4 cloves garlic
4 to 6 whole peppercorns
2 pounds medium to large shrimp

FOR COCKTAIL SAUCE:

1 cup natural ketchup
2 to 3 tablespoons horseradish (to taste)
1/2 teaspoon Worcestershire sauce
pinch salt
Instructions
SHRIMP:

Combine vinegar, water, 1/3 cup Old Bay, garlic and peppercorns in a large soup pot. Bring to a boil over medium high heat.
When water is rapidly boiling, add shrimp, cover and cook 2 to 4 minutes (until shrimp are just pink).
Immediately drain shrimp and toss with remaining 1.5 tablespoons Old Bay.
Place uncovered in a bowl and refrigerate until ready to serve.

COCKTAIL SAUCE:

Combine all ingredients.
I use 3 tablespoons of horseradish to 1 cup of ketchup but I like my cocktail sauce to have a kick. Start with 2 tablespoons and slowly adjust to taste and spice level. Cover and refrigerate until ready to serve.
Serve with plenty of napkins and Enjoy!
7.6.7
2532
https://www.everydaymaven.com/old-bay-peel-n-eat-shrimp-cocktail-sauce/
Recipe and Photos Copyright of EverydayMaven 2011-2016