All of your questions about How to Cook Smoked Ham are answered plus get the recipe for our holiday Smoked Ham with Maple Spice Glaze! Naturally gluten-free and refined sugar-free!
When it comes to cooking a whole smoked ham, there are a lot of options and questions. When I originally posted this maple spiced glazed smoked ham recipe a few years ago, I was just focused on how great it tasted and looked on the holiday table.
After hearing from so many of you with questions, I updated this post to include some of the most commonly asked questions about how to cook a bone-in smoked ham.
Bookmark this for Easter, Thanksgiving, Christmas, New Year's or whenever you want to serve a whole ham.
Let's get to it!
WHAT IS SMOKED HAM?
A smoked ham is a section of the leg of pork that is cured in a brine and then hung in a smokehouse and smoked over low heat for a long time to add flavor.
Both fresh ham and cooked ham can be smoked.
HOW DO I KNOW IF I HAVE A SMOKED HAM OR FRESH HAM?
The USDA requires producers to label fresh hams with an instruction to "cook thoroughly" and cooked hams as "ready-to-eat" or "fully cooked".
This recipe is for a SMOKED BUT UNCOOKED FRESH HAM!
If you are buying it at a supermarket, read the package. If you are buying from a butcher or farmer, ask them!
DO YOU HAVE TO COOK A SMOKED HAM?
If it is a fresh smoked ham, YES. If it is a fully cooked smoked ham, NO, you just need to reheat it.
HOW TO COOK A FRESH SMOKED HAM:
Preheat the oven to 325F.
Prepare glaze.
Use a paring knife to cut diamond marks on the fat cap and stud each diamond with a whole clove.
Transfer to a roasting pan and roast for the allotted time.
Baste with glaze and continue cooking until golden.
Cool, slice and serve!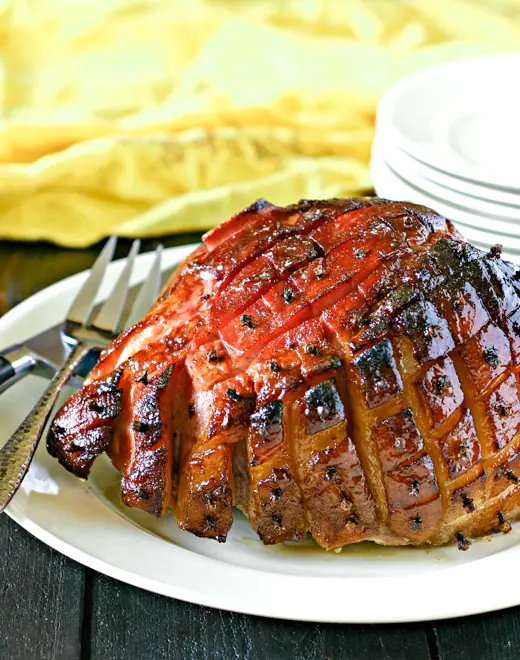 HOW LONG TO COOK A SMOKED HAM IN THE OVEN?
In this recipe, I used a 6.5-pound bone-in smoked ham and the total cooking time was 2 hours and 15 minutes. Your ham's cooking time depends on how big the ham is and how your oven performs. Adding 20-25 minutes per additional pound is a good rule of thumb – you're looking for an internal temperature of 145F.
BEST SIDE DISHES FOR HAM:
This is a mostly hands-off recipe that yields a beautiful and unbelievably tasty ham that is a show stopper for your holiday table! Here are some ideas for what to serve it with:
Holiday Salad with Thyme Balsamic Vinaigrette
Garlic Rubbed Roasted Cabbage Steaks
Cornbread Stuffing with Andouille Sausage
Vegetarian Brussels Sprouts with Crispy Shallots
WHAT TO DO WITH LEFTOVER HAM:
Leftover Ham, Cheese and Spinach Stuffed Sweet Potatoes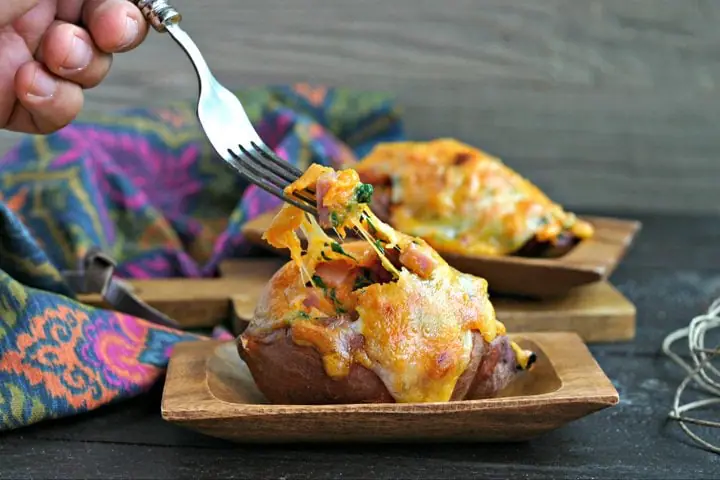 Green Eggs and Ham (Scrambled Eggs with Ham and Kale) from Kalyn's Kitchen
Ham and Bean Soup Recipe from Wonky Wonderful
Ham and Split Pea Soup from Culinary Ginger
Did you make this recipe? Please give it a star rating below!
How To Cook a Smoked Ham
Total Time:
2
hrs
10
mins
All of your questions about How to Cook a Smoked Ham answered plus get the recipe for our holiday Smoked Ham with Maple Spice Glaze! Naturally gluten-free and refined sugar-free!

Keyword:
How to cook a whole ham, perfect smoked ham recipe, what is a smoked ham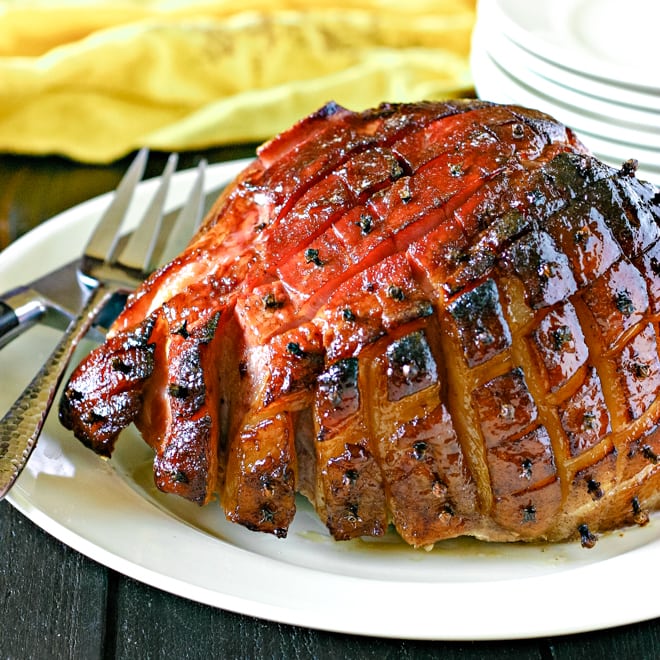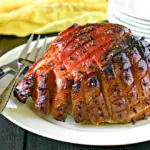 Ingredients
6

pound

smoked, bone-in ham

1

teaspoon

ground cardamom

1/2

teaspoon

ground cinnamon

1/2

teaspoon

ground ginger

1/2

teaspoon

allspice

1/2

teaspoon

kosher salt

2

Tablespoon

coconut palm sugar

handful

whole cloves

1/3

cup

pure maple syrup
Instructions
Remove completely defrosted ham from fridge about 60 minutes prior to cooking.

Mix all ingredients except whole cloves and maple syrup in a dish and use your hands to evenly coat the ham with the spice mix.

Preheat oven to 325F. Line a large roasting pan with tin foil and set aside.

Place spice covered ham on a cutting board and use a sharp knife to make 1" diagonal slices (about 1/4" deep) into the layer of exposed fat. Repeat in the other direction to make a diamond pattern.

Place one whole clove in the middle of each diamond.

Move ham to roasting pan and place in the oven. Bake, undisturbed for 1 hour and 45 minutes.

Remove roasting pan and baste ham with 1/2 of the maple syrup. Return to oven and continue cooking for 15 minutes.

Remove and raise heat to 450F. Baste ham with remaining maple syrup and return to oven for an additional 15 minutes. If there are any very dark spots that you think may burn, fold a small piece of tin foil into a square and gently cover those spots.
NOTES:
The total cooking time for a 6.5-pound ham was 2 hours and 15 minutes. The first hour and 45 minutes undisturbed, 15 minutes basted at 325F and 15 minutes basted at 450F.
You may need to adjust this slightly based on the size of your ham or how your oven performs.
A good rule of thumb is 20 to 25 minutes per lb or an internal temperature of 145F.
Allow to rest for 15 to 20 minutes, slice and Enjoy!
Nutrition Facts
How To Cook a Smoked Ham
Amount Per Serving
Calories 170
Calories from Fat 63
% Daily Value*
Fat 7g11%
Cholesterol 76mg25%
Sodium 1256mg55%
Potassium 303mg9%
Carbohydrates 3g1%
Protein 19g38%
Vitamin C 24.4mg30%
Calcium 11mg1%
Iron 0.9mg5%
* Percent Daily Values are based on a 2000 calorie diet.
This Smoked Ham recipe was originally published in April, 2014 and was last updated in March 2019.