Hey! I'm Alyssa Brantley and I'm obsessed with food and dogs. Not in any special order ;).
I love spending time in my kitchen perfecting Whole Food Recipes that take Half the Time to make.
Just because we are busy, doesn't mean we shouldn't eat great!
I grew up in Philadelphia, PA but live in Seattle, WA. We have spent most of the last decade living in the Pacific Northwest and now call it home.
The PNW is a magical place where it rains way less than people think, the grass is always green (they don't call it the Emerald City for nothing), the water is blue, the food is grown nearby, and people pause and make eye contact with you at a stop sign instead of cursing you out.
My happy place is in the kitchen and by the Ocean. Someday, I'll build a house that combines the two.
I love to cook and play with flavor! High-quality ingredients are everything to me.
My food philosophy for our family is that we can only really control what we eat at our house. If we eat well at home, that leaves us room to go to restaurants, parties and social events without having to stress out about every single ingredient.
That is our 80/20.
Therefore, at home, we practice eating whole foods, lots of veggies, keep mostly Gluten Free (except for some Sourdough), buy only truly pastured meats and cheeses and source wild-caught, sustainable seafood. When it comes to snacks and processed food, we keep it minimal and always make sure to buy GMO-Free, minimal ingredient foods from brands who care about what they produce.
I grew up in a cooking family. My Mom went to culinary school when I was a small child and taught both my brother and me to cook at a young age. We explored flavors and ingredients and were taught to savor food and be open-minded.
While living in New York City for college, I interned at both ABC News and The Food Network when it was in its early stages!
It was a crash course in cooking and I was privileged to learn from Emeril Lagasse, Bobby Flay and David Rosengarten.
After getting married and moving to Seattle, I decided to start sharing some of my creations and started EverydayMaven.
Since then, I've continued to refine my cooking skills by taking world-class cooking classes with top chefs (including an immersion at The Culinary Institute of America at Greystone in Napa Valley, California) and continually educating myself on food production, supply chain, and ingredient quality.
I have been featured in Real Simple Magazine (print version) and my recipes have been featured on Today.com (multiple features), Mom.Me, Shape Magazine (print), Self Magazine, Huffington Post (multiple features), NFL.com, Redbook Magazine, Gourmet Magazine (print), Prevention (print) and many more.
I've been privileged to partner with some of the best brands out there and develop recipes showcasing the products that I love, use in my own kitchen and am excited to introduce you to. Some long-term EverydayMaven partnerships include Kroger, Pacific Foods, Adams Peanut Butter, Bob's Red Mill, New Season's Market, and Tastefully Simple.
I share the tried, true and tested recipes that work and that I know will make your life easier!
Whole Food. Half the Time.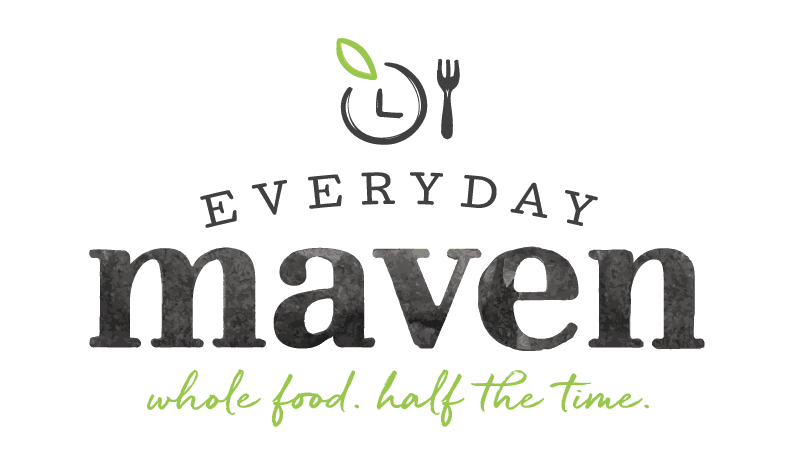 Welcome to my corner of the internet. I'm glad you are here!
Alyssa xo
P.S. You can explore my recipe collection here. Make sure to sign up for 5 Secrets to Saving Time in the Kitchen email series!
Nothing makes me happier than to see your creations of my recipes so if you make one of my dishes and post about it, make sure you tag me and use the hashtag #everydaymaven.