Learn how to make this Homemade Mayonnaise Recipe using an immersion blender and just a handful of ingredients. EASY and tastes like store-bought!
Originally Posted: May 20th, 2014   |    Updated:  January 2nd, 2019
When I did my first Whole30 (years ago), one of the first things I started doing was making homemade condiments.
You quickly learn that 99% of the condiments you can buy in the store are riddled with cheap oils, preservatives, sulfites, stabilizers and hidden sugar.
Sounds yummy right? Not!
Mayo is no exception. My old go-to was always Hellman's (called Best Foods on the West Coast).
I grew up eating it and love the taste. So, when I started experimenting with making this Homemade Mayonnaise Recipe, it had to come as close as possible in taste and texture to Hellman's.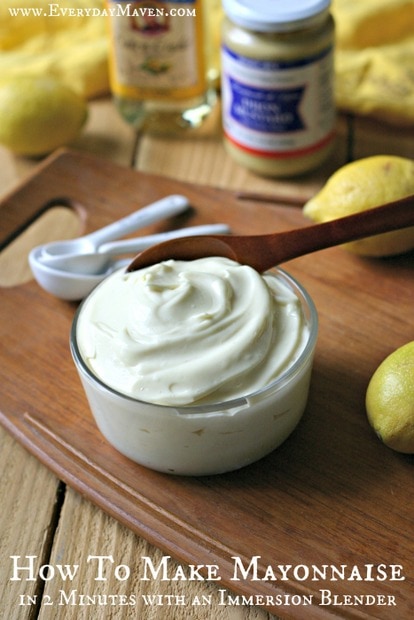 After trying a bunch of different methods from old-fashioned hand whisking (looking at you Julia Child), the food processor method (too time-consuming) and some failed immersion blender recipes, I finally landed on this recipe for homemade mayonnaise from Northwest Edible.
Erica adapted her version from Serious Eats and I played around with it until I got it to taste like Hellman's.
This seriously takes less than 2 minutes – no joke.
You can have homemade, clean-ingredient mayonnaise anytime you want, you just need to make you have an immersion blender
Do you need an Immersion Blender to make Whole 30 Mayonnaise?
Nope. You could use a large bowl and a whisk but be prepared for it to take a LONG time. You could also use a food processor or blender but there are a lot of variations in size and the amout of ingredients may not come above the blades. If that happens, it won't blend any or all of it.
I like to use an immersion blender because it's easy, quick and you can assure that you are going to emulsify the ingredients from the bottom up.
Is Homemade Mayonnaise Whole30 compliant?
Only if you use compliant oils such as avocado oil, walnut oil, macadamia nut oil, olive oil and coconut oil.
Which Oil is Best for Blender Mayonnaise?
Personally, I love a combination of a mild tasting, neutral oil like Avocado Oil paired with Extra Virgin Olive Oil. I have found that a 2/3 to 1/3 ratio yields the best and most consistent flavor.
If you use all avocado oil, the mayonnaise will likely be too neutral tasting and bland.
If you use all extra virgin olive oil, the mayonnaise will likey be too overpowering and not mild enough.
Did you make this recipe? Please give it a star rating below!
Homemade Mayonnaise Recipe
Learn how to make this Homemade Mayonnaise Recipe using an immersion blender and just a handful of ingredients. EASY and tastes like store-bought!
Cuisine:
American, French
Keyword:
easy mayonnaise, homemade condiments, homemade mayonnaise recipe, immersion blender mayonnaise, keto mayonnaise, whole30 condiments, whole30 mayonnaise
Ingredients
1

large

egg

1

T

lemon juice

approx. half of a large lemon

1/2

tsp

dijon mustard

3/4

tsp

kosher salt

1/4

tsp

ground white pepper

2/3

cup

mild neutral oil such as avocado or light olive oil

can also use macadamia nut oil, walnut oil or other high-quality mild oil

1/3

cup

extra virgin olive oil
Instructions
Begin by placing all ingredients in a wide mouth mason jar of other tall, cylinder shaped container.

Make sure the white pepper is not clumped up and let the ingredients sit for a minute or two until the oil rises to the top.

Place the immersion blender in so that it sits firmly on the bottom of the container.

Set it to the highest speed and turn on. Do NOT pull the blender up or out, just allow it to sit at the bottom of the container. The mayo will start to emulsify and begin creeping up the sides.

Once most of the mixture has emulsified and looks like mayo (less than a minute!), you can begin to move the immersion blender up and down to incorporate any oil that is sitting on the top.

You should have thick, creamy mayo!

Place in a container with a lid, keep refrigerated and use up within one week. Enjoy!
NOTES:
If you don't want to consume raw eggs, click here for an easy tutorial on How To Coddle An Egg.
Nutrition Facts
Homemade Mayonnaise Recipe
Amount Per Serving (1 Tablespoon)
Calories 124
Calories from Fat 117
% Daily Value*
Total Fat 13g 20%
Cholesterol 11mg 4%
Sodium 115mg 5%
Potassium 4mg 0%
* Percent Daily Values are based on a 2000 calorie diet.