When OXO reached out to me last month and asked if I wanted to participate in their #OXOGoodCookies campaign to help raise money for Cookies For Kids Cancer, it never crossed my mind to say anything except, "Yes, of course!"
Cookies for Kids' Cancer was founded by two OXO employees who were inspired to make change happen and help others when their own 2-year old was battling cancer.
OXO sent me a box filled with the following cooking baking tools and asked me to create a spritz cookie recipe (a spritz cookie is a cookie you make with a cookie press).
Cookie Press with Disk Storage Case
Cookie Spatula
Good Grips 3 Piece Silicone Spatula Set
7 Piece Good Grips Measuring Cups with added Scraper
6 Piece Good Grips Measuring Spoons with added Scraper
For EVERY post dedicated to this cause in September, OXO will donate $100 to Cookies for Kids' Cancer.
Growing up, my brother and I made spritz cookies with our mom every year around the holidays. This is one of my favorite cooking memories and I've been meaning to develop a grain free and gluten free cookie recipe that is easy and taste delicious so I can continue that tradition on with my kids.
Thanks to OXO for the push in the butt to develop this recipe and to do it for a great cause!
Also, for EVERY stickered item sold online and in stores, OXO will donate 25 cents in support of pediatric cancer research as part of its $100,000* pledge to Cookies for Kids' Cancer. Look for specially marked OXO products at participating retailers in September.
If you buy any of these OXO baking equipment items in September, look for this sticker to help support this cause.
In 2014, OXO will donate up to $100,000 to Cookies for Kids' Cancer through specially marked baking tools, bake sale matches and other fundraising efforts. Cookies for Kids' Cancer is a recognized 501c(3) public charity duly incorporated under the laws of the state of New Jersey. Your donations are tax deductible to the fullest extent allowable by law. 100% of proceeds raised by Cookies for Kids' Cancer fund pediatric cancer research.
Where can you find OXO & Cookies for Kids' Cancer on social media?
Twitter: @OXO / @Cookies4Kids
Instagram: @OXO / @Cookies4Kids
Facebook: facebook.com/OXO / AND  facebook.com/CookiesForKidsCancer
Pinterest: pinterest.com/OXO /  AND  pinterest.com/Cookies4Kids
How else can you get involved?  Click here — http://oxogoodcookies.com/get_involved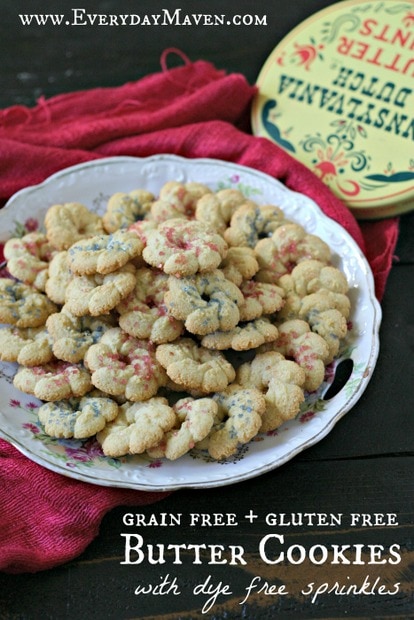 NOTES:
While unsalted butter is the standard for baking, I have made these with salted butter and they were delicious! Just decrease the sea salt to 1/4 teaspoon.
I wanted my cookies to look (and taste!) like traditional butter cookies so I used organic sugar. Since there is only 1/4 cup and this recipe makes at least 48 cookies, you are looking at less than 1/4 teaspoon of sugar per cookie! You can definitely substitute coconut palm sugar but the color and texture of the cookie will change a bit. I do not recommend subbing a wet sugar like maple syrup or honey as the batter will be sticky and hard to navigate with the cookie press.

 

Blanched almond flour (finely ground blanched and skinless almonds) is different than almond meal (has the skins / brown specks and is more dense).

 Trader Joe's also sells it pretty cheap ($3.99 / lb). 



Every parent has their thing and one of mine is artificial food colors. I draw a hard line and don't allow my son to eat food coloring (I don't eat it either!). To me, it's not food – it's chemicals and there is never a good enough reason for us to consume it. Artificial food colors are banned in many other countries and for very good reason. Here are three links with more information about artificial food colors.
I link to the India Tree Dye Free Sprinkles in the recipe below. There are a couple other brands (some newer) to the market. You can order online or check in your local health food store or natural grocery. Some tips – the darker colors (more pigment) show up better as you can see from my cookie pictures. The blue and pink are visible while the orange pretty much disappeared when baked. If you want to use a light color like yellow, orange or green, apply generously to have it stand out!
Everyday Maven
Yields 48
Grain Free Butter Cookies #OXOGoodCookies
1 Point Plus Each -- Recipe Makes Approximately 48 to 58 cookies depending on size of cookie disc used in cookie press. Points Plus is based on 48 cookies.
10 minPrep Time
12 minCook Time
22 minTotal Time
Ingredients
2 cups blanched almond flour
2 Tablespoons tapioca flour
1/4 teaspoon baking soda
1/2 teaspoon finely ground sea salt (see NOTES if using salted butter)
1 large egg, room temperature
1/4 cup organic sugar
1/4 cup unsalted butter, room temperature
1/2 teaspoon pure vanilla extract
Instructions
Preheat oven to 350F. Line two baking sheets with silpats or parchment paper.
Combine almond flour, tapioca flour, baking soda and sea salt in body of food processor fitted with the steel chopping blade and pulse a couple times until all lumps are removed.
Transfer flour mixture to a mixing bowl. Add egg, sugar, butter and vanilla to food processor and process until well combined. Use a spatula to scrape sides if necessary.
Add flour mixture back in and pulse a couple of times until wet ingredients are incorporated with dry ingredients.
Remove dough to mixing bowl and add to cookie press as needed to make cookies.
Decorate with Dye Free sprinkles and bake one tray at a time on center rack of oven for 10 to 12 minutes. The smaller the shape and the more exposed edges, the faster the cookies will cook. You want the bottoms to be slightly browned but not dark brown.
Immediately transfer cookies to cooling rack and allow to cool completely before eating or storing.
Once cool, store in a cookie tin or glass container. Enjoy!
https://www.everydaymaven.com/2014/grain-free-butter-cookies/
Recipe and Photos Copyright of EverydayMaven 2011-2016