Like so many of what wind up being my family's favorite dishes, this one happened by circumstance. The circumstance of what was available in my pantry when I went to make a marinade.
I don't know about you, but until I made this dish, I'd never had Roasted Pepper Chicken before. It sounded like a good idea and I am glad it worked because this is easy to make, deeply flavored, moist and pleased everyone in our family – from young to old (not always easy!).
All you need to do is toss everything (except the chicken!) in a blender or food processor and puree. Then combine that with the chicken (I prefer skinless for this recipe) and let it marinate all day or overnight, if possible. Turn on the oven to 425F and bake until done. Pretty easy right? And, it tastes really good!
NOTES:
When it comes to buying roasted peppers, I like Trader Joe's since they don't have any additives or weird preservatives. My local Costco currently has a great deal on all-natural roasted peppers from Greece that are also free of additives. Alternately, you can always roast your own!
I have substituted thyme for the rosemary and it's good (I do like the rosemary better though!)
The Points Plus is based on cutting up a whole chicken into 8 pieces (2 legs, 2 thighs, 2 wings and 2 breasts).

Skinless thighs are 3 Points Plus each plus 1 Point Plus for the breading so 4 Points Plus each.
Skinless legs are 2 Points Plus each plus 1 Point Plus for the breading so 3 Points Plus each.
Skinless breasts 3 Points Plus each for 4 ounces plus 1 Point Plus for the breading so 4 Points Plus each.
Everyday Maven
Yields 10
Baked Roasted Pepper Chicken
8 Servings (See NOTES for Points Plus Info)
5 minPrep Time
60 minCook Time
1 hr, 5 Total Time
Ingredients
1 cup roasted peppers, packed in water, drained from their liquid
6 medium cloves garlic, crushed
2 1/2 Tablespoons extra virgin olive oil
1 1/2 Tablespoons organic, raw apple cider vinegar
1 teaspoon kosher salt
1/4 teaspoon freshly ground black pepper
pinch crushed red pepper flakes
2 sprigs fresh rosemary (leaves only)
3 to 4 lbs bone-in, skinless chicken parts (see NOTES)
Instructions
PREP:

Combine roasted peppers, garlic, olive oil, cider vinegar, salt, pepper, red pepper flakes and rosemary leaves in a food processor or blender and process until smooth. Place skinless chicken pieces in a gallon size freezer bag and pour marinade over it. Seal and place in the fridge for at least 4 hours or preferably overnight.

COOK:

Preheat oven to 425F. Line a baking sheet with tinfoil and spread out chicken pieces on tray. Pour remaining marinade over each piece until well coated. Place in oven on middle rack and bake for 55 to 60 minutes or until done.
Remove from oven and let chicken cool 5 to 10 minutes, serve and Enjoy!
7.6.6
2523
https://www.everydaymaven.com/roasted-pepper-chicken/
Recipe and Photos Copyright of EverydayMaven 2011-2016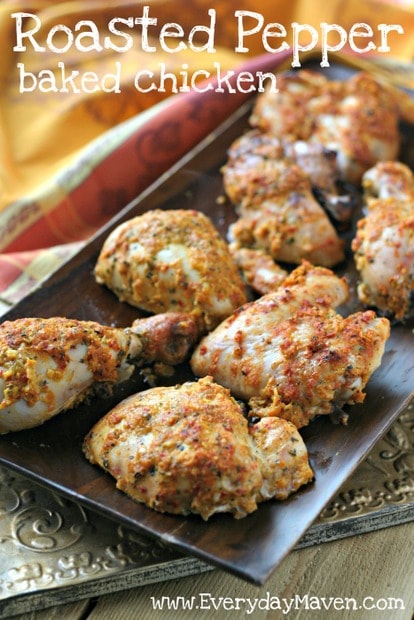 Last year, Faith from An Edible Mosaic and I hosted The Food Blogger Prop Swap. It was a lot of fun and food bloggers from all over the US exchanged prop boxes with each other, made new connections and of course, got new fun props of all kinds to work with. You can see the results here.
This year, we decided to switch things up a bit and are hosting The Food Blogger Cookbook Swap.
The idea is that Food Bloggers from all over the US send on one of their gently used, barely used or new cookbooks and get one from someone else in return. There is no cost except for flat rate postage ($5.95).
To learn more about The Food Blogger Cookbook Swap, head over here and to sign up, fill out this form.