You may remember a couple of weeks ago when I posted this Shrimp in Green Sauce over Zucchini Noodles. Well, I saved all of the uncooked shrimp shells (5 pounds) and tossed them in the freezer. Fast forward to last week, I pulled them out and added another pound of shrimp shells from a dish I am sharing next week (Shrimp Pil Pil also known as Gambas al Ajillo – one of my favorites!).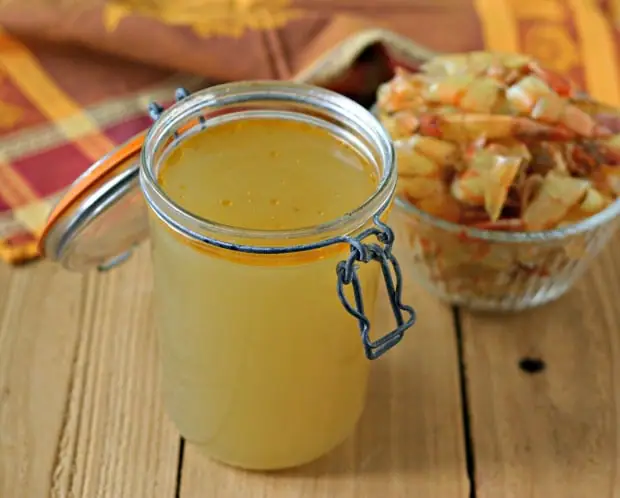 Whenever I make stock, I like to make a big batch. You are cooking, straining and cleaning pots anyway so why not make as much as you can right?
Much like my Slow Cooker Chicken Stock, Flu Fighter Chicken Stock and Basic Beef Broth, this Shrimp Stock is simple.
Not too many ingredients and you get a flavor-infused base for everything from Seafood Stew, Clam Chowder or even the beginning of a fabulous Mussel or Clam dish.
If you like shellfish, get in the habit of saving up your (uncooked) shrimp shells. They keep about three months in a freezer bag. Then make a batch of this Shrimp Stock!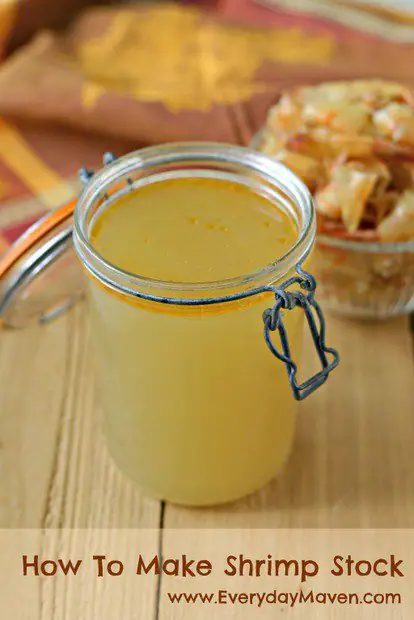 Everyday Maven
Yields 8
How To Make Shrimp Stock
5 minPrep Time
1 hr, 30 Cook Time
1 hr, 35 Total Time
Ingredients
1 Tablespoon butter (or neutral oil)
Uncooked Shells and Tails (if you have them) from 5 to 6 pounds of Shrimp
14 cups filtered water
1 medium yellow onion, left whole and peeled
2 Tablespoons kosher salt
1/4 teaspoon whole black peppercorns (approximately 10 to 12)
1 bay leaf
Instructions
Heat a large soup pot over medium heat. Once hot, add butter. When butter is melted (but not yet sizzling), add shrimp shells. Cook, stirring frequently, 2 to 3 minutes, until shells are aromatic and starting to turn pink.
Add water, onion, salt, black peppercorns and bay leaf. Bring to a boil. Once boiling, skim off any white scum that rises to the top.
Cover, reduce heat to a simmer and continue cooking, stirring occasionally, for 90 minutes.
Set up a mesh strainer over another soup pot (or very large container or glass measuring cups) and strain stock from shells. Allow to cool, refrigerate or freeze and Enjoy!
7.8.1.2
2495
https://www.everydaymaven.com/how-to-make-shrimp-stock/
Recipe and Photos Copyright of EverydayMaven 2011-2019