A couple of weeks ago when I was faced with cooking 5 pounds of the largest, freshest shrimp ever, one of the dishes that kept popping up in my mind to make was Shrimp Pil Pil, also known as Gambas al Ajillo.
Shrimp Pil Pil is Spanish Tapas and made with many variations in different regions in Spain. I first had this dish almost twenty years ago at a restaurant (that has since closed) in Philadelphia, PA called Pamplona Restaurant. I used to go there frequently with my parents for dinner and no matter what else we ordered, we always got one or two orders of Shrimp Pil Pil for the table.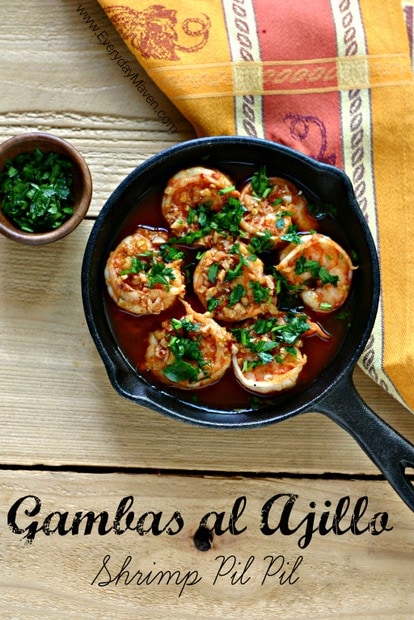 Fast forward a couple of weeks after the big shrimp challenge and I still couldn't get this dish out of my head. While food shopping in Whole Foods Market, I saw some large, sustainably caught shrimp on sale and decided it was high time to finally recreate this dish.
I researched and even found an article about this exact dish at Pamplona Restaurant along with their recipe.
Since their version included a flour coating, I decided to go a different route but kept the flavor profile in my head as I created the final recipe.
This version is fabulous. So easy to make and will impress as a simple appetizer (or even as an entree!). The only thing is you really need some kind of bread to sop up the delicious garlicky oil at the bottom.
I found this grain free artisan baguette from Against The Grain Gourmet in the freezer section at Whole Foods. It was really good!
NOTES:
Sweet Spanish Paprika is a crucial ingredient for this dish and where most of the flavor comes from. A tin is usually around $4 at the grocery store. I don't recommend substituting regular or smoked paprika.
Everyday Maven
Yields 4
Shrimp Pil Pil (Gambas al Ajillo)
8 Points Plus Per Serving -- Serves 4 as an Appetizer OR (16 Points Plus Per Serving -- Serves 2 as an Entree)
20 minPrep Time
5 minCook Time
25 minTotal Time
Ingredients
1/3 cup extra virgin olive oil
4 to 5 medium cloves garlic, finely chopped
1 teaspoon crushed red pepper flakes
1 1/4 pounds large (20 to 25 count) shrimp, peeled and deveined
1 1/4 teaspoon sweet Spanish paprika
1 1/2 Tablespoons Pale Dry Sherry
3/4 teaspoon kosher salt
freshly ground black pepper
2 Tablespoons finely chopped flat leaf parsley
Instructions
PREP:

Peel, smash and finely chop garlic. Measure crushed red pepper flakes and combine with garlic, set aside.
Peel shrimp ( save the shells for [Shrimp Stock . Use a paring knife or shrimp cleaner to devein each shrimp. Rinse and drain thoroughly. Add sweet paprika and to shrimp, toss to combine and set aside.
Finely chop parsley, measure 2 Tablespoons and place in small dish until ready to use. Measure sherry.

COOK:

Heat a large frying pan or cast-iron skillet over medium heat. Once hot, add olive oil. Heat oil and then add garlic and red pepper flakes. Cook for 1 minute, stirring continuously.
Raise heat to high and add shrimp, sweet paprika and sherry. Stir to mix paprika into oil and cook until shrimp are pink, about 3 to 4 minutes.
Remove from heat, season with salt and black pepper (about 15 to 20 turns). Serve topped with finely chopped parsley and Enjoy!
7.8.1.2
2494
https://www.everydaymaven.com/shrimp-pil-pil-tapas/
Recipe and Photos Copyright of EverydayMaven 2011-2019