Even though I use my homemade slow cooker chicken stock most frequently in my kitchen, homemade beef broth is actually my favorite. I love the taste and have to confess to drinking it by the mug.
My husband thinks I am nuts, but I seriously love the taste. I told him last week that I would be happy starting every morning with a steaming mug of beef broth. No coffee, no tea, just some broth and he looked at me and just about threw up.
I get that not everyone may share my affection for drinking broth but if you like to cook (and I think you do since you are here reading!), you need a foolproof technique to make beef broth.
There are many out there, some call for pre-roasting the bones in the oven, some call for using a pressure cooker, some even a slow cooker. This technique starts on the stove top and moves to a slow cooker for the second batch (yes, second batch!). A lot of recipes add in a variety of vegetables but, similar to my chicken stock, I like to keep it simple using only three ingredients: beef bones, water and salt.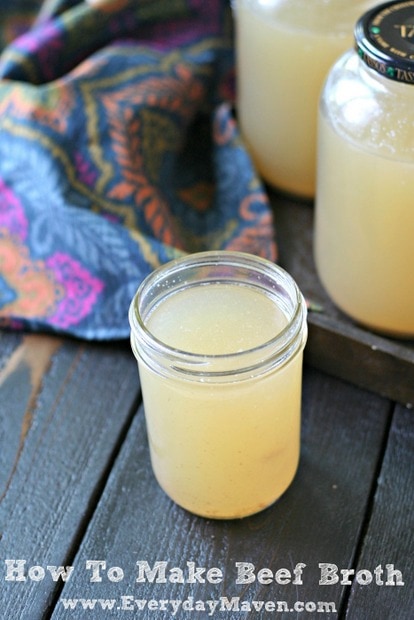 Some important things to NOTE:
Use the highest quality beef bones you can get. I only make beef stock from local, pastured beef bones. If I can't get a good price on them, I use another stock (vegetable, chicken, etc.) until I can source them again.
You can always try your local butcher shop, natural grocery stores and of course, local farms.
I start this on the stove-top because raw beef bones create a lot of scum and the only way to really remove it is to bring the water to a boil and skim it off. Don't skip this step.
If you don't have a slow cooker, you can make the second batch on the stove-top as well or skip it altogether if you want. I find that pastured beef bones are pretty expensive and I want to get all the broth I can from them before I discard them.
Why the Apple Cider Vinegar? The point of this is not to add flavor (you won't taste it), but for the apple cider vinegar to extract minerals and calcium from the bones to make your stock even more of a nutritional powerhouse. Read here for more on that!
Did you make this recipe? Please give it a star rating below!
How To Make Beef Broth
Total Time:
1
d
8
hrs
5
mins
How To Make Beef Broth. Easy, Three-Ingredient Homemade Beef Stock. Use Pastured Beef Bones for the Best Results!

Keyword:
How To Make Beef Broth
Ingredients
For First Batch:
5

pounds

pastured meaty beef bones

uncooked

1

gallon

+ 1 cup filtered water

1

tablespoon

apple cider vinegar

3

tablespoons

kosher salt
For The Second Batch:
12

cups

filtered water

2

tablespoons

kosher salt
Instructions
Place beef bones, apple cider vinegar and 1 gallon plus 1 cup filtered water in a large stock pot. Allow to sit for at least 30 minutes and then place over heat and bring to a boil.

Once boiling, begin to skim the "scum" off the top. Continue doing this for about 10 minutes or until most of the scum is gone.

Add in 3 Tablespoons kosher salt, stir to combine, cover and reduce heat to a simmer. Simmer, stirring occasionally, for 6 to 8 hours.

Use a tongs to remove large beef bones to a bowl (I actually put them right into the slow cooker since I will be starting a second batch immediately). Set a

mesh strainer

over a soup pot and strain broth into pot.

Place remaining bones (from strainer) into the slow cooker along with the large bones. Add 12 cups filtered water and 2 Tablespoons kosher salt. Cover and set to low for 12 hours and then high for 12 hours. Since this second batch will be less flavorful, we want to reduce it and then combine it with the first batch.

Allow broth in soup pot to cool a bit then cover and place in refrigerator. The next day, remove from fridge and scrape solid fat layer off (I discard this).

Return to fridge until slow cooker batch is ready. Once slow cooker broth is done, set mesh strainer directly over soup pot (As long as you have enough room for the additional liquid. If not, use a different pot!) and strain second batch of broth. This time, discard the bones. I like to pick off the meat and set it aside to eat or toss into a mug of broth.

Allow to cool a bit and place pot back in refrigerator. The next day, remove the second solid layer of fat.

Since the broth is cold and congealed from the gelatin (this is a good thing!), I place the pot on the stove-top and warm it up just enough for it become liquid again. It's easier to pour for storage. Fill glass jars / containers and use as needed.
Nutrition Facts
How To Make Beef Broth
Amount Per Serving
Calories 9
% Daily Value*
Sodium 2025mg88%
Potassium 288mg8%
Protein 2g4%
Calcium 11mg1%
* Percent Daily Values are based on a 2000 calorie diet.