Homemade Chili Oil is easier than you think! This Chinese Chili Oil tastes just like the restaurant version but is made with good ingredients!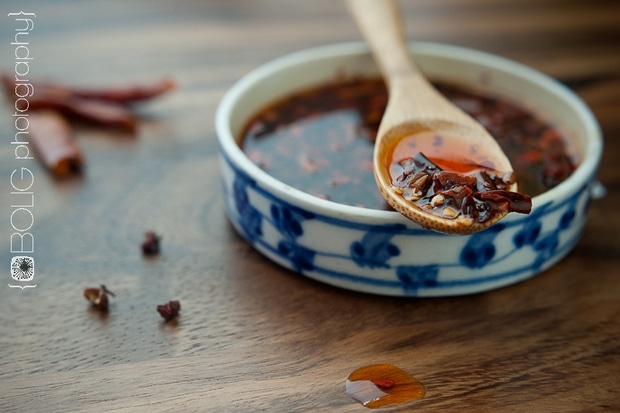 It's just way toooo easy and provides instant hot-sauce gratification. Meaning it's ready in 5 minutes, done. No simmering, no layering, no additional anything. Yes, you should cool it but if you want to douse your food with hot hot sauce, that's your business.
Store-bought condiments can be such a problem. It seems like there are two large camps: one where the condiments are affordable but filled with refined sugar, preservatives, artificial colors, additives or even worse – MSG and one where the condiments are made of pristine ingredients, particularly difficult to find and so ridiculously expensive that purchasing said condiments is equivalent to say, getting a manicure.
This is the homemade condiment for those of you scared to make your own condiments. It's super easy (as long as you have a blender or food processor) and takes minutes.
I like to use this to add heat to Asian food, sauces and on eggs!
NOTES:
If you don't want to use either coconut oil or avocado oil, I recommend using light olive oil.
You can usually find Whole Dried Chinese or Thai Chilies in bulk or in 1-ounce or 3.5-ounce packages in the grocery store. I really like India Tree Thai Hot Chilies (Santaka Type).
Szechuan Peppercorns used to be hard to find but now they are relatively easy. Penzey's Spices carries small amounts and most Asian grocery stores and spice shops have them in stock.
Pamela Bolig from Bolig Photography took the main (aka not the in-process shots) photos. This one was a challenge and we both learned so much. Then we made scrambled eggs with kale and avocado and topped it with this chili oil. Not a bad morning 🙂
Recipe Adapted From: Paleo Chinese Chili Oil from Ancestral Chef
Did you make this recipe? Please give it a star rating below!
Homemade Chinese Chili Oil
Alyssa needs to update photos, recipe card, social pug and keywords


Course:
Marinades and Spice Mixes
Keyword:
Homemade Chinese Chile Oil
Ingredients
1

ounce

whole dried Hot Thai Chiles

1/2

tablespoon

Szechuan peppercorns

1/2

cup

organic virgin coconut oil

1/2

cup

avocado oil

or light olive oil

pinch

kosher salt
Instructions
Place whole dried chilies in bowl of food processor along with szechuan peppercorns. Process for 3 to 4 minutes until chilies are broken up into small pieces.

Combine coconut oil and avocado oil in a small saucepan and heat on medium until coconut oil is melted (if solid) or oil starts to get hot.

Add processed spices and cook over medium heat 3 to 4 minutes until peppercorns turn just a shade darker.

Remove from heat, add a pinch of salt, stir to combine and let cool.

Once cool, transfer to a glass storage container with a lid. Store in a cool, dark cabinet and Enjoy!
Nutrition Facts
Homemade Chinese Chili Oil
Amount Per Serving (1 Teaspoon)
Calories 41
Calories from Fat 36
% Daily Value*
Total Fat 4g 6%
Potassium 12mg 0%
* Percent Daily Values are based on a 2000 calorie diet.