Growing up, my brother and I always chose our "birthday dinner". My mom would give us free reign and we would inevitably chose either a pasta dish similar to this, Lemon Chicken, Steak with Mushrooms and Melted Cheese or Pepper Steak.
This Paleo Pepper Steak is closely based on the recipe my mom used for those birthday dinners. In 1998 (dating myself!), I spent months collecting my mom's favorite recipes and carefully inputting them into a word processor, printing them on fancy paper and making her a huge binder for Mother's Day with each and every recipe in a plastic sleeve.
I organized them by category and had the idea that she could pull them out one by one to cook a dish and not ruin the recipe. Remember, at that time, most of her recipes were handwritten, handed down or ripped out of a magazine.
Somehow this Pepper Steak came up a couple of weeks ago and I decided to remake it using clean ingredients. It tastes pretty close to the original and is meant to be mild. It is not spicy at all. As an adult, I totally added Sriracha but I can see how as a kid, I loved this approachable and flavorful dish.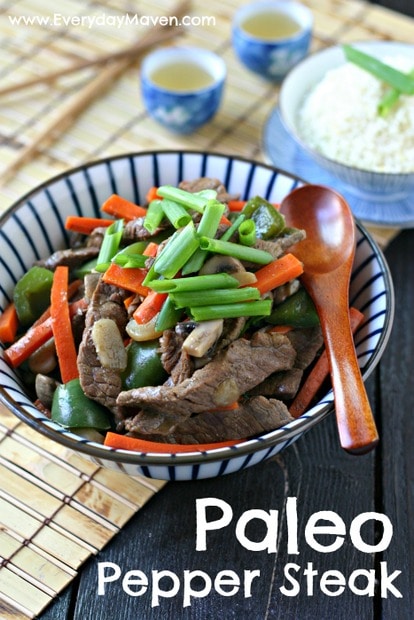 NOTES:
I often see Top Round Steak being sold as "London Broil" – be sure to ask the butcher and just let him know you are making a Stir Fry.
A warning that this sauce loosens up quite a bit after reheating. If that bothers you, you can re-thicken it with a bit more arrowroot and cold water (start with 2 tsp + 2 tsp water).
You need a really large pan or you can cook this in batches or just halve the recipe. I like to make enough to have lunch or leftovers for the freezer.
Did you make this recipe? Please give it a star rating below!
Paleo Pepper Steak
Paleo Pepper Steak. Soy Free Pepper Steak. Paleo Chinese Food.
Keyword:
Paleo Pepper Steak
Ingredients
2

pounds

top round steak

thinly sliced

2

tablespoons

virgin organic coconut oil

1/2

cup

Coconut Aminos

or fermented soy sauce

2

teaspoons

coconut palm sugar

1/2

teaspoon

freshly ground black pepper

2 to 3

medium cloves garlic

finely chopped

3

medium carrots

peeled and cut into 2" x 1/2" sticks

2

large green bell peppers

cut into 1" squares

1

pound

white button mushrooms

cleaned and quartered

5

ounce

can of sliced water chestnuts

drained

2

Tablespoons

arrowroot starch + 2 Tablespoons cold water

1

bunch

scallions

cut on the diagonal into 1 1/2" pieces
Instructions
To Prepare
Begin by slicing the steak (against the grain) into very thin strips. If your meat is fully defrosted, it helps if you pop it in the freezer for 20 to 25 minutes so it's partially frozen and much easily to slice. (warning: gross raw meat shot)

Combine coconut aminos, palm sugar, black pepper and chopped garlic in a bowl. Mix until well combined and set aside.

Peel carrots and slice lengthwise into 1/2" slices. Cut the 1/2" slices into 2" sections and proceed to slice each section into 1/2" pieces. This doesn't need to be perfect and these are guidelines. Ultimately, you want the carrots evenly cut so they cook at the same time and not in such big pieces that they won't cook in the allotted time.

Clean the bell peppers, slice off the tops and remove the seeds and white ribs with a paring knife. Cut the peppers into 1" squares.

Use a chefs knife to cut the scallions on the diagonal into 1 1/2" pieces.

Clean mushrooms caps by wiping with a damp paper towel and cut into quarters.

Drain water chestnuts. In a small dish, combine arrowroot starch with cold water until well mixed.
To Cook:
Heat a large skillet over medium high heat. Once hot, add coconut oil and then sliced beef. Brown beef, about 7 to 8 minutes, until there is no pink. (NOTE: Don't crowd the pan or the beef will steam instead of browning. If you need to cook it in batches, divide the oil up accordingly.)

Once beef is browned, remove from pan with tongs to a bowl. Pour juice into a measuring cup and fill measuring cup with water (if necessary) until you have 1 cup total.

Return browned beef to pan along with juice and coconut aminos mixture. Bring to a boil. Once boiling, cover and reduce heat to a simmer. Simmer, stirring occasionally, trying to make sure the meat is mostly submerged in the liquid, for 45 minutes.

Remove lid and add carrots, bell peppers, mushrooms and water chestnuts. Stir to combine and cover. Continue cooking 15 minutes until vegetables are just tender.

Remove lid and push some of the meat and vegetable mixture to the side. Slowly pour in the arrowroot mixture while constantly stirring it into the sauce. As soon as it is all mixed in, immediately remove pan from heat. Stir to distribute the sauce, toss in scallions and adjust salt and pepper if necessary. [img src="http://www.everydaymaven.com/wp-content/uploads/2014/01/IMG_0408-533x400.jpg" alt="" width="533" height="400" class="aligncenter size-large wp-image-11599"][img src="http://www.everydaymaven.com/wp-content/uploads/2014/01/IMG_0410-533x400.jpg" alt="" width="533" height="400" class="aligncenter size-large wp-image-11600"]
Nutrition Facts
Paleo Pepper Steak
Amount Per Serving
Calories 310
Calories from Fat 90
% Daily Value*
Fat 10g15%
Cholesterol 92mg31%
Sodium 579mg25%
Potassium 1010mg29%
Carbohydrates 15g5%
Protein 38g76%
Vitamin A 5280IU106%
Vitamin C 36.3mg44%
Calcium 52mg5%
Iron 3.9mg22%
* Percent Daily Values are based on a 2000 calorie diet.