My son is in a peanut butter and jelly phase like nobody's business and my homemade sunbutter is not cutting it. He wants peanut butter and jelly!
Right now it's the Seriously Strawberry Jam from Peanut Butter & Co. and before that is was good old-fashioned concord grape jelly (but an organic low sugar version!).
As for the peanut butter, he prefers chunky but will still eat the smooth if that is the only option. Kid eating phases are pretty interesting to watch.
A couple of weeks ago, Peanut Butter & Co. contacted me and asked if I wanted to reinvent and revolutionize the PB&Jelly aka #PBJRevolution. Well, it didn't take very long for me to say yes, especially when my son saw the email and wanted to pick out which jars of PB and Jelly they would send us to experiment with.
He did good and picked one each of the all-natural old-fashioned smooth and old-fashioned chunky. He was just about through his jar of grape jelly and requested the grape and strawberry but they are currently out of stock in the grape so he got the apricot and strawberry.
This mug cake is the perfect after-school snack. It's Gluten Free, Grain-Free, Dairy Free and can be made in minutes. Literally. A minute or two to mix everything up and just about 2 minutes in the microwave. Plus, it's got protein from both the peanut butter and an egg so it's an after-school snack you can feel good about!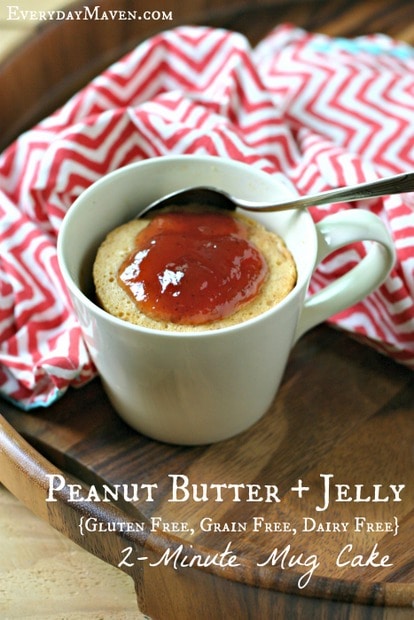 NOTES:
Peanut Butter & Co. provided me with two jars of peanut butter and two jars of  jam to experiment with. I was not compensated in any other way for this post!
For a Nut-Free version, you can absolutely substitute SunButter!
Microwave ovens vary and can significantly impact the cooking time. For reference, ours is 1000 Watts and 2 min 10 sec is perfect. Start slow and keep adding time to figure out the perfect formula for your microwave.
Believe it or not, the type of mug you use can also impact the cooking time as material and thickness impact the transfer of heat. So once you find a perfect mug / cooking time formula, stick with it so you can ensure consistent results!

Use whatever kind of

 milk

 you have in the house. 



I used Peanut Butter & Co. Old Fashioned Smooth which has only two ingredients – peanuts and salt. Make sure whatever brand you use doesn't have added oils or sugar.
Also, if you use an unsalted peanut butter, you need to add a pinch of sea salt.
Everyday Maven
Yields 1
Grain Free Peanut Butter and Jelly Mug Cake
12 Points Plus Per Serving -- Serves 1 (If you are doing WW, you may want to split this in half or share it so it's only 6 PP)
3 minPrep Time
3 minCook Time
6 minTotal Time
Ingredients
2 1/2 Tablespoons creamy salted peanut butter (all natural - no oil added)
1 Tablespoon pure maple syrup
1 Tablespoon plain, unsweetened almond milk
1/2 teaspoon organic virgin coconut oil
1/4 teaspoon pure vanilla extract
1 large egg
1/4 teaspoon baking powder (gluten free)
pinch sea salt
1 Tablespoon jelly or jam of your choice (I used
Instructions
In a microwave safe mug, mix peanut butter, maple syrup, almond milk, coconut oil, vanilla extract and egg together until smooth and well mixed. Make sure there are no clumps.
Add baking powder and sea salt and mix again until incorporated.
Microwave uncovered 1 1/2 to 2 1/2 minutes (according to wattage - see NOTES). Allow to cool for 1 minute and spoon jelly or jam on top. Eat while warm and Enjoy!
7.8.1.2
2459
https://www.everydaymaven.com/grain-free-peanut-butter-and-jelly-mug-cake/
Recipe and Photos Copyright of EverydayMaven 2011-2019