This Vegetarian Fajita Frittata is a flavor-packed quick meal that is perfect for any time of the day. Serve topped with sliced avocado and chips!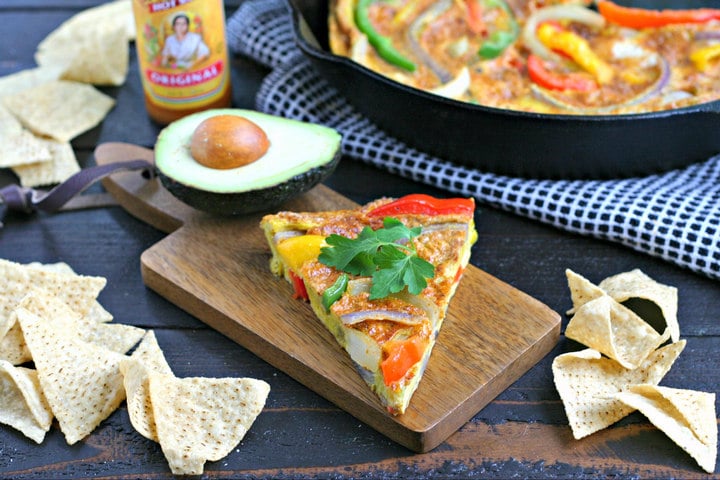 Frittata's are one of those things that I go through phases with cooking. But, every single time I make a frittata I think the same exact thing, "This is so easy – why don't I do this more?"
I am committing right here and right now to adding one new frittata a week to our dinner plan. It's an easy way to use up leftovers and create a delicious and easy dinner!
This Vegetarian Fajita Frittata is so stupid easy, the whole thing – chopping included – takes about 15 to 20 minutes.
Since we are going with fajitas, you can serve this with all of your favorite fajita toppings. I like avocado or guacamole and some corn chips or plantains but if you eat dairy, bust out the cheese and sour cream. Oh, and salsa. And hot sauce. OBVS.
NOTES:
You can use any combination of colored bell peppers or all the same color. I prefer using organic peppers so I always look for what is on sale.
You can freeze any leftover frittata once completely cooled.
I used taco seasoning because it's more common and readily available than fajita seasoning but either works!
Alyssa Brantley | EverydayMaven
Yields 6
Vegetarian Fajita Frittata
10 minPrep Time
6 minCook Time
16 minTotal Time
Ingredients
10 large eggs, beaten
2 teaspoons taco seasoning
pinch salt
2 T avocado oil
1 extra large onion, peeled, halved and cut into 1" thick strips
2 bell peppers, any colors, seeded and cut into 1/2" thick strips

TO SERVE: (all optional)

sliced avocado OR guacamole
fresh cilantro
organic corn chips or plantain chips
Instructions
PREP:

Crack eggs into a bowl. Add a pinch of salt and taco seasoning. Beat or whisk until foamy and set aside.
Peel onion, cut in half and slice into 1" thick slices. Remove seeds and ribs from inside of bell peppers. Slice into 1/2" thick slices.

COOK:

Place oven rack at second position from top (so not the highest rack setting, the next one down). Preheat oven to broil.
Heat a 12 cast iron pan over medium heat. Once hot, add avocado oil and then sliced onions and peppers.
Saute for 2 to 3 minutes, stirring constantly, to soften veggies.
Add beaten eggs.
Allow to cook undisturbed for 4 to 5 minutes, until sides begin to set.
Use pot holders to carefully move the hot cast iron pan to the preheated oven. Broil for 2 to 3 minutes until top begins to brown.
Remove, all to cool for 5 minutes. Slice into 6 pieces and serve with your favorite toppings!
7.8.1.2
2962
https://www.everydaymaven.com/vegetarian-fajita-frittata/
Recipe and Photos Copyright of EverydayMaven 2011-2019