Easy dairy-free Turmeric Milk (Golden Milk) is the perfect way to wind down after a hectic day. This anti-inflammatory powerhouse is ready in less than 5 minutes thanks to the magic of dried spices!
My cousin (my BFF) has been sick and single-Momming while her husband is on a fun snowboarding trip. I was on the phone with her the other day and we started talking about Turmeric Milk aka Golden Milk to help her feel better.
I texted her the link to this post but there was so much information missing that I wound up verbally conveying to her, I realized I needed to update this old thing and make sure you are all taken care of as well. Let's get to it!
WHAT IS GOLDEN MILK (TURMERIC MILK)?
Turmeric Milk is essentially some spices and sweetener in milk that is heated and served. It is an antioxidant and anti-inflammatory powerhouse and a great way to wind down at the end of the day.
Traditional Golden Milk is made with honey, fresh turmeric root, cinnamon sticks, and whole black peppercorns. Yep, you read that right – black pepper. We will get to that in a second.
For this recipe, I simplified it to dried herbs and spices. I figure that when you are feeling under the weather, the last thing you want to do is start shopping for specialty ingredients. You probably already have all of these dried spices in your house. Now, you can whip up some easy golden milk in minutes!
HEALTH BENEFITS OF GOLDEN MILK
You probably already know that I am mildly (understatement lol) turmeric obsessed. I try to make dishes with it as often as possible!
Recent research suggests that curcumin, which is the key compound in turmeric, aids in protecting you against a variety of diseases due to its anti-inflammatory properties.
The problem is that curcumin is not well-absorbed by the body by itself. Here comes the black pepper explanation.
Pepper contains a compound called piperine. Combining piperine and curcumin increases the bioavailability of curcumin by up to 2,000% according to a research study by the journal Planta Medica.
So, what does this mean in layman's terms? 
That the combination of even just a pinch of piperine (in black pepper) activates the anti-inflammatory properties of curcumin (in turmeric). So, if you have an autoimmune disease, joint paint or other inflammation, drinking golden milk lattes may help you reduce inflammation.
WHAT DOES GOLDEN MILK LATTE TASTE LIKE?
There is an earthy taste but truth is that the final taste of the Turmeric Milk Latte will depend on which non-dairy milk and sweetener combination you use. Start with my recipe below and begin tweaking and experimenting from there!
WHAT KIND OF MILK CAN I USE TO MAKE TURMERIC MILK?
I like to use unsweetened vanilla Hemp or Cashew milk as the base as they are both vegan, usually gluten-free (check your brands) and both really creamy!
Oat milk, almond milk, and canned coconut milk all work as well. Sometimes, I like to do a combo of canned coconut milk and almond milk. When using thinner milk (like almond milk, I'll sometimes add a dollop of coconut butter or Ghee to froth it and add some healthy fat).
WHAT KIND OF SWEETENER SHOULD I USE FOR GOLDEN MILK?
Most traditional Golden Milk Recipes are made with high-quality raw honey. In fact, you make a paste from honey, herbs, and spices and use that to sweeten the milk.
I don't like to end the night consuming sugar so I use a little monkfruit sweetener (like stevia but no aftertaste). That makes this a low carb or Keto Golden Milk Recipe.
You can use stevia (still low carb), coconut sugar (paleo), pure Maple syrup (vegan), or go the traditional route and use raw honey (not vegan).
Let's get to making a turmeric milk latte! Make sure to come back and tell me what combination you landed on! Cheers 🙂
Did you make this recipe? Please give it a star rating below!
Turmeric Milk
Easy Vegan and Low Carb Turmeric Milk is the perfect way to wind down after a hectic day. This anti-inflammatory powerhouse is ready in less than 5 minutes thanks to the magic of dried spices!
Cuisine:
American, Mediterranean
Keyword:
dried spices, easy, golden milk, how to make turmeric milk, keto, quick, vegan
Servings
:
2
12-ounce servings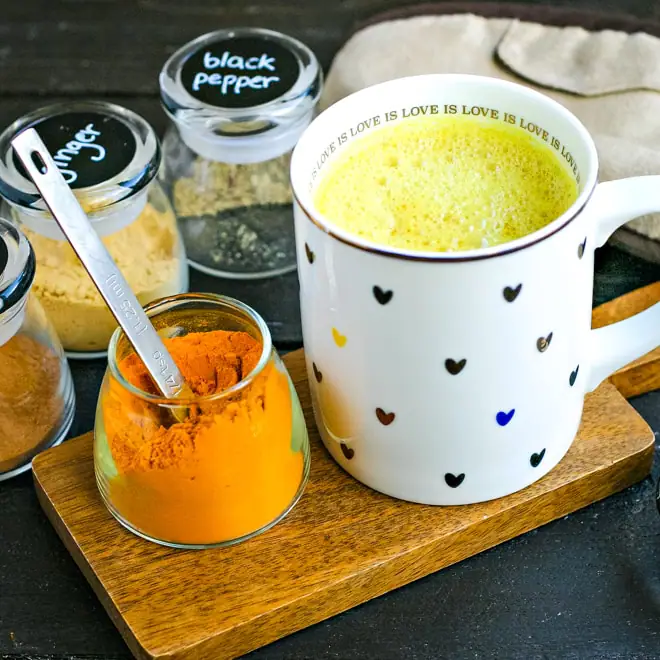 Ingredients
24

ounces

unsweetened non-dairy milk

3

drops

liquid monkfruit sweetener

or 2 Tablespoons honey or maple syrup

1

teaspoon

ground turmeric

1

teaspoon

ground cinnamon

1/2

teaspoon

ground ginger

1/4

teaspoon

ground black pepper
Instructions
Combine all ingredients in a small saucepan and heat over medium low heat for 2 to 3 minutes until warm.

I recommend whisking frequently. If using honey, stir in after removing milk from heat.

Serve immediately and Enjoy!
NOTES:
Note: The nutritional information was calculated using vanilla almond milk so the milk type (plain, vanilla, etc,), almond, cashew, coconut, dairy, etc. and if it is sweetened or unsweetened will change the nutrition info.
Nutrition Facts
Turmeric Milk
Amount Per Serving (12 ounces)
Calories 161
Calories from Fat 63
% Daily Value*
Fat 7g11%
Sodium 171mg7%
Potassium 505mg14%
Carbohydrates 14g5%
Protein 10g20%
Vitamin A 1337IU27%
Vitamin C 24mg29%
Calcium 486mg49%
Iron 2mg11%
* Percent Daily Values are based on a 2000 calorie diet.
Originally Posted: April 9th, 2018   |   Last Updated: March 18th, 2019