This healthy Shrimp and Broccoli Stir Fry in Ginger Sauce is the perfect low carb and gluten free one-pot (wok) dish to kick off the New Year! Made in partnership with New Seasons Market.
I know we were just talking about how to perfectly grill broccoli but I am not done yet. Broccoli is not only one of my all-time favorite vegetables but, it's one of our go-to veggies all winter.
This Shrimp and Broccoli Stir Fry in Ginger Sauce is going to be your ultimate healthy one-pot (actually wok) meal this January. It's gluten free, low carb and Whole30 compatible (see NOTES below for Whole30 swap). You can serve it over steamed rice or cauliflower rice and the whole thing takes under 30 minutes to get on the table.
You may have noticed that I haven't been posting as many shrimp recipes as I used to. In fact, I only posted ONE in all of 2016. I have been dying to talk to you about why. It's getting harder and harder to source affordable shrimp that are excellent quality. On top of that, many stores don't adequately label their available shrimp options which makes it even more difficult to figure out what is an excellent choice, a good choice, or a not so great choice.
That has changed for me now that New Seasons has opened in Seattle. One of the things that I love about New Seasons Market is their commitment to conscientious seafood sourcing. This is a really big deal. The Seafood Counter is focused on stocking sustainable seafood with a variety of choices to meet every budget. This, in addition to providing an advanced labeling system that allows for a high level of transparency.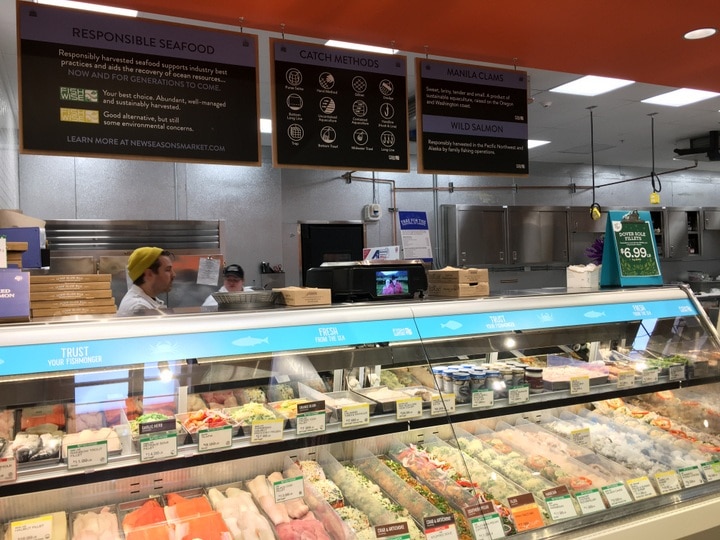 For this recipe, I chose wild caught Jumbo Shrimp from the USA. One tip is that almost anytime you see "Previously Frozen" that means that the Seafood Counter may still have some that are still frozen in back, which is perfect if you are not going to cook the shrimp within the next 24 hours.
While I am pretty broccoli obsessed, if you want to make this stir-fry even easier, you can pick up a pound or two of the ready-to-go vegetable blends. I've tried both the Bangkok and Bento and really liked them!
One last thing about this recipe. As with all of the other stir-fry recipes I have posted on here, if you don't have a Wok, you can use a large frying pan or skillet. However, if you like to cook stir-fry's and have the storage room, I highly, highly recommend getting a good carbon steel wok. They are not very expensive and allow you to cook a larger amount of food, much quicker and at a higher heat — which is the point of stir-frying in my opinion.
NOTES:
For WHOLE30: omit the coconut palm sugar, use Whole30 compatible Sriracha and serve over cauliflower rice.
You can freeze this in individual servings but take note that the sauce will break and will not be thick upon reheating.
Alyssa Brantley | EverydayMaven
Yields 4
Shrimp and Broccoli Stir Fry in Ginger Sauce
20 minPrep Time
10 minCook Time
30 minTotal Time
Ingredients
SAUCE:

1 cup broth, divided
3 T coconut aminos (or 2 T gluten free Tamari)
2 T coconut palm sugar
1 T toasted sesame oil
1 T Sriracha
2" piece fresh ginger root, peeled and cut into thin matchsticks
pinch ground white pepper
2 T arrowroot starch + 3 T cold water

STIR FRY:

3 T avocado oil
1 1/4 pounds sustainably raised and harvested shrimp, peeled, cleaned and split in half
8 ounces mushrooms, cleaned and cut into quarters
1 pound broccoli florets
1/3 cup sliced water chestnuts (drained)
2 to 3 green onions, thinly sliced, for garnish

SERVE WITH STEAMED RICE OR CAULIFLOWER RICE
Instructions
PREP:

Peel ginger and cut into thin matchsticks - about 1/2" tall.
Combine cut ginger with 1/2 cup of broth, coconut aminos, palm sugar, toasted sesame oil, Sriracha and ground white pepper. Mix well and set aside. Set aside remaining 1/2 cup of broth.
In another small dish, combine arrowroot starch with warm water until dissolved and set aside.
Prep shrimp by peeling and removing shells. (Save the shells in the freezer for Shrimp Stock )
Slice each shrimp in half through the back from head to tail.
Remove any veins and rinse under cold water until clean.
Clean mushrooms, trim stems and cut into quarters.
Cut broccoli into evenly sized florets.
Rinse sliced water chestnuts and measure 1/3 cup.
Thinly slice green onions for garnish and set aside.

COOK:

Heat a wok over high heat. Once hot, add 1 1/2 T of avocado oil and then cleaned and sliced shrimp. Cook 3 to 4 minutes, stirring constantly, until just cooked through.
Remove shrimp from wok and set aside. Add remaining avocado oil. Once hot, add broccoli florets, mushrooms, and sliced water chestnuts.
Next, add remaining 1/2 cup of broth. Stir and cover. Cook for 3 to 4 minutes, until broccoli is just tender.
Remove lid, return cooked shrimp to wok and add ginger sauce.
Move shrimp and vegetables to sides of wok allowing ginger sauce to "pool" at the bottom. It should begin bubbling very quickly, in about 1 minute. As soon as the sauce begins to bubble, add arrowroot and water mixture (you may need to re-stir it if it's been sitting on the counter for a while). Quickly stir it in as you add it to thicken the sauce.
Immediately remove from heat once sauce is thick. Serve topped with sliced scallions with steamed rice or cauliflower rice and Enjoy!
7.8.1.2
2954
https://www.everydaymaven.com/shrimp-and-broccoli-stir-fry-in-ginger-sauce/
Recipe and Photos Copyright of EverydayMaven 2011-2019
DISCLOSURE: This post is part of a series of sponsored posts in partnership with New Seasons Market. New Seasons has compensated me for my time to develop this recipe and to tell you about my personal experience with their stores. All opinions are my own. Thank you for supporting the brands that make EverydayMaven possible.