We are really big asparagus fans around here and have been in somewhat of an asparagus rut lately. I think it's because we are grilling so much right now that we just kept defaulting to eating my 3-Ingredient Grilled Asparagus. Not that that is necessarily a bad thing, as they are really delicious and easy to make, but after a while, the same dish gets boring to me.
These Sautéed Asparagus with Shallot + Lemon evolved a couple of weeks ago when we were grilling and there just wasn't enough space on the grill to fit the asparagus. My husband (our resident grill-master) told me I would have to cook them inside. With no plans to bake our house by turning on the oven (it was a warm day), I grabbed some shallots and lemons and quickly came up with this dish.
I've made it a number of times since and it's quickly becoming an easy weeknight favorite. It's simple, light, fresh and the flavor pairs really well with a multitude of main dishes!
NOTES:
Try to find asparagus that are on the thinner side for this dish. If the stalks are too thick, they will need a much longer cooking time. Alternately, you could always blanch the stalks prior to sauteing to ensure an even cook time.
I used eTools to calculate the Points Plus. The total was 7 (basically the asparagus and Ghee) which divided by 4 is 2 Points Plus Per Serving.
Everyday Maven
Yields 4
Sautéed Asparagus with Shallot + Lemon
2 Points Plus Per Serving -- Serves 4
5 minPrep Time
8 minCook Time
13 minTotal Time
Ingredients
1 1/2 pounds asparagus, trimmed and cut into 2" pieces
1 large shallot, finely chopped
1 Tablespoon Ghee (or pastured butter)
1/2 teaspoon kosher salt
freshly ground black pepper
1 medium organic lemon
Instructions
PREP:

Begin by cleaning the asparagus and breaking off the woody stalks at the bottom.
Cut asparagus into 2" pieces. Finely chop shallot and zest skin of entire lemon. Cut zested lemon in half and reserve half for squeezing during cooking.

COOK:

Heat a large frying pan over medium heat. Add Ghee. Once hot, add shallots and saute, stirring constantly, for 2 minutes.
Toss in asparagus and kosher salt. Continue cooking, stirring occasionally, for 4 to 5 minutes or until tender.
Remove from heat, add lemon zest, juice from 1/2 lemon and 10 to 12 turns of freshly ground black pepper. Toss until well coated.
7.8.1.2
2719
https://www.everydaymaven.com/sauteed-asparagus/
Recipe and Photos Copyright of EverydayMaven 2011-2016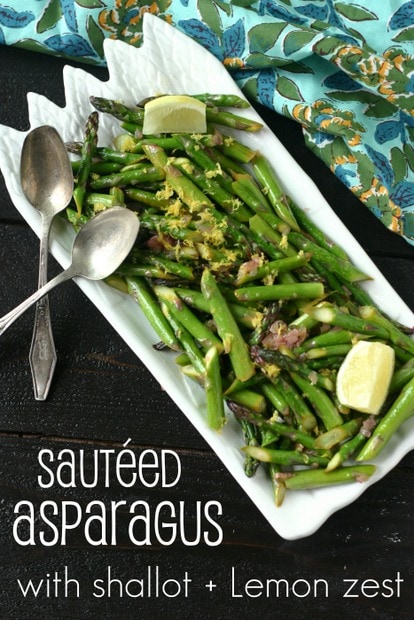 P.S. For all of you Medjool Date lovers, head over to our BLEND site for an awesome giveaway that starts today with Natural Delights Medjool Dates!