Sometimes it's the most simple dishes that are the most successful. Like these Rosemary Mixed Nuts with Dried Cranberries!
Last week, we hosted a small Hanukkah party for my son, some of his friends and their parents. I told my son he could invite four of his friends. This was extremely hard for him (and us!) but we really wanted to keep it small so the kids would have room to run around, be crazy and not be over-crowded by a ton of mingling adults.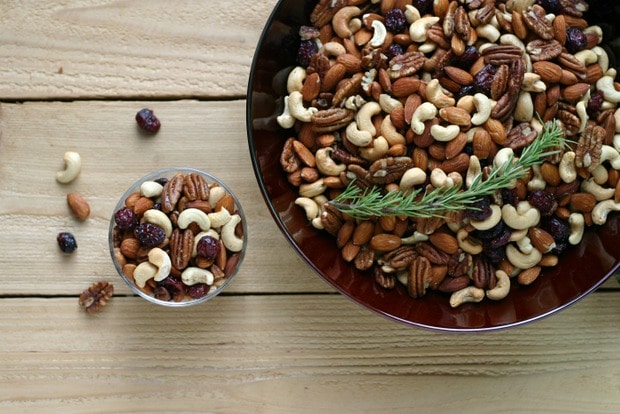 As soon as I started to menu plan, I knew for sure I would include these Candied Sweet Potato Latkes (I made them a touch smaller) and these Paleo Chocolate Chip Doughnuts with Chocolate Glaze (I also made these mini on a Babycakes mini donut maker as well as a big vegetable tray (mini sweet bell peppers, Persian cucumbers, carrots sticks and grape tomatoes) with some Hummus for dipping and some other snacky foods for the kids (potato chips cooked in olive oil, apple and grape juice boxes, etc.)
I also had this grand idea to create "Brisket Inspired Mini Meatballs" which was a lot of work and turned out good but wasn't knock it out of the park special. I wound up calling them "Hanukkah Meatballs" and although people seemed to really like them, I doubt I'll ever make them again (too many extra steps!).
I knew we would have some nuts but truly it was a bit of an after-thought until the day of the party. I had some beautiful, fragrant rosemary leftover from Thanksgiving and realized that I had the perfect combination of nuts and berries to highlight the rosemary.
These mixed nuts were a last minute addition and may have been the most popular dish at the party. Everyone loved them and raved about them. While the rosemary is subtle and not the least bit over-powering, it has enough of a presence to let your taste buds know that you are not just eating a handful of mixed nuts. Balanced out with sea salt, a pinch of crushed red pepper flakes and just enough coconut oil, these are perfect for parties or as an anytime snack.
Extra bonus, they are ridiculously easy to make, Vegan, Whole30 compliant and Paleo.
NOTES:
Be careful when buying dried cranberries. Many brands are loaded with preservatives, an obscene amount of sugar and some even have food coloring. If you live near a Trader Joe's, they have an Organic option that is lightly sweetened and has a bit of Sunflower Oil for $2.99 a bag. If not, I recommend trying the bulk section of your natural foods store.
Store in an air-tight container in the pantry for up to one month (I doubt they will last that long ;)).
Fresh Rosemary is a must! There is a small amount and it is very powerful. Try to use the most fragrant rosemary you can – it will really make a difference.
Did you make this recipe? Please give it a star rating below!
Rosemary Mixed Nuts
6 Points Plus Per Serving Based on 35 Servings
Keyword:
Rosemary Mixed nuts
Ingredients
1

pound

raw whole almonds

1

pound

raw whole cashews

1/2

pound

raw pecans

1/4

cup

organic virgin coconut oil

1

tablespoon

finely chopped fresh rosemary leaves

2

teaspoons

sea salt

1

pinch

crushed red pepper flakes

1

cup

dried cranberries

see NOTES
Instructions
Preheat oven to 350 and set the oven racks to the 1st and 3rd positions. Line two baking sheets with parchment paper or tin foil and set aside. In a large bowl, combine almonds, cashews and pecans.

Finely chop rosemary and measure 1 Tablespoon. Combine with sea salt and pinch red pepper flakes.

Heat coconut oil in a frying pan over medium heat. Once melted and very hot, add rosemary, salt and red pepper flakes. Cook about 30 seconds, stirring constantly.

Immediately remove from heat and pour over mixed nuts.

Toss until well coated and pour half of the nuts onto each baking sheet. Shake until they are in one layer.

Place both baking sheets in the oven and set for 8 minutes. Remove from oven, shake nuts around and place back in the oven for an additional 8 minutes until just starting to brown.

Remove and allow to cool a bit (10 to 15 minutes). Add in cranberries, toss well to mix and let nut mix cool completely (until totally cool to touch) before storing in an airtight container. See NOTES for more on storage and Enjoy!
Nutrition Facts
Rosemary Mixed Nuts
Amount Per Serving
Calories 202
Calories from Fat 144
% Daily Value*
Fat 16g25%
Sodium 134mg6%
Potassium 206mg6%
Carbohydrates 10g3%
Protein 5g10%
Vitamin A 5IU0%
Vitamin C 0.2mg0%
Calcium 45mg5%
Iron 1.5mg8%
* Percent Daily Values are based on a 2000 calorie diet.