While I love to cook, I have never really fancied myself as much of a baker. Don't get me wrong, I know a thing or two about baking, I just don't enjoy it as much as cooking savory food.
When you become a mom, you need to start thinking about birthday cakes whether you want to or not. Of course, you can out-source this or convince your kids that cupcakes are the thing to do but eventually a request for a decorated cake will catch up to you.
This year I really wanted to perfect a Grain Free Vanilla Bean Birthday Cake since my son requested a Vanilla Bean cake for his big 5th birthday coming up soon (how did that happen?!). He doesn't eat gluten and while there are some options in Seattle, I haven't found a Gluten-Free bakery that is really amazing (there is one in Portland though – New Cascadia Traditional – that place is amazing!!!). 
My standards are that it tastes like a real, regular old birthday cake. Moist and light and with a nice crumb. And, most of all, without that weird gummy heavy gluten free after-taste that is unfortunately so common.
After trying countless grain-free and gluten-free cake recipes, there is one that stands head and shoulders above the rest and it's the Magically Moist Almond Cake recipe from Bob's Red Mill. 
This cake looks and tastes like regular cake. It's moist and light with a nice crumb. The only downside is that the cake recipe is super finicky and doesn't always come out the same.
With Bob's Red Mill's permission (thanks guys!), I played around with the recipe and made 6 or 7 variations using different pan sizes, egg sizes, sweeteners and even weighing vs. scooping the flours until I got it just right to a cake that will deliver consistent results time after time.
Don't get scared – this is a relatively easy recipe and doesn't use that many ingredients. It is just finicky and there are a couple of things that really matter if you want consistent results. See below in my NOTES section for my recommendations and please be sure to read the recipe and notes through before baking this cake.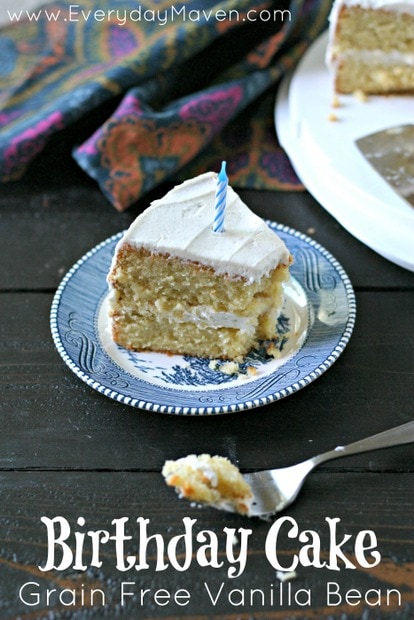 NOTES:
The eggs must be size "Large". X-Large eggs will yield too moist of a cake.
You must weigh the almond flour and coconut flour. Just a couple of Tablespoons up or down will dramatically change the finished texture of this cake.
Make sure your eggs and butter are both at room temperature – this means leave them out for at least 45 min to 1 hour before starting this cake.
As much as I know most of you don't want to use regular type sugar, that is really what this cake needs. I used Wholesome Sweeteners Organic Sugar, which is free of chemicals, bleach, herbicides and pesticides. It's still pure sugar but this is a once-a-year birthday cake so I am fine with it. Alternative sugars like palm sugar and maple sugar (tried both) dramatically change both the texture and color and don't yield results that look or taste like a "traditional birthday cake" which is my goal! Maple syrup and honey add too much additional moisture.
Preheat your oven at the very start and make sure you have a rack in the center position. You want the oven nice and hot!
The brand of cake pan that you use can make all the difference. I really like USA Cake Pans and after trying this cake in multiple shapes have found that the 9″ x 2″ Round works the best.
This cake is better the next day. That is a good thing because it means you can make it in advance!
Some things that are more flexible…
Adapted From: Magically Moist Almond Cake courtesy of Bob's Red Mill (used with permission)
Did you make this recipe? Please give it a star rating below!
Grain Free Vanilla Bean Birthday Cake
Grain Free Vanilla Bean Birthday Cake
Keyword:
Grain Free Vanilla Bean Birthday Cake
Ingredients
1 1/2

cups

unsalted butter + 1 tablespoon for greasing the pans

at room temperature

2

cups

organic sugar

8

large eggs

room temperature

1

cup

plain unsweetened hemp milk (or full fat cow's milk)

2

vanilla bean pods

scraped and mixed with milk

12

ounces

(340 grams) blanched almond flour

4

ounces

(113) grams coconut flour

4

teaspoons

gluten free baking powder

1/2

teaspoon

finely ground sea salt
Additional Equipment:
Two 9 x 2 round cake pans

Stand Mixer or Handheld Mixer

Cake Tester
Instructions
Begin by preheating oven to 350F. Drop 1/2 Tablespoon of butter into each pan and spread around until each cake pan is greased. Set aside.

In the bowl of a stand mixer (or a large mixer to be used with a hand mixer), cream together room temperature butter and sugar until smooth. I used speed 4 on my Kitchen Aid Stand Mixer.

While mixer is still on speed 4, add in eggs, one at a time. TIP: Make sure to crack your eggs individually into a separate dish or bowl before adding to batter to avoid any shells.

Reduce mixer speed to 2 and slowly add in milk and vanilla bean seeds until well mixed.%http://www.everydaymaven.com/wp-content/uploads/2015/01/IMG_1427.jpg%http://www.everydaymaven.com/wp-content/uploads/2015/01/IMG_1428.jpg

In a separate mixing bowl, combine almond flour, coconut flour, baking powder and sea salt. Use a spatula or fork to mix around and get rid of any large lumps.

Add flour mixture into wet ingredients in small batches with mixer still running on lower speed (about 2 should work). Repeat until all flour is incorporated into batter and is thoroughly mixed and looks creamy.

Divide batter into cakes pans, use a spatula to spread around and even out top and bang the cake pans a couple times to allow any air bubbles to rise to the surface.

Place both cake pans into the oven on the center rack and bake for 40 minutes, alternating the cake pans at the halfway point (mostly because most ovens have hot spots and this helps with a more even bake time).

Use a cake tester or wood toothpick to gently test the center of each cake. If it comes out clean, place cake pan on cooling rack. If the tester comes out with cake batter on it, place back in the oven and check again in 3 to 4 minutes.

Allow cakes to cool for at least 30 to 45 minutes in the pans on a cooling rack. Grab a flat plate and place on top of cake. Gently flip over so that cake releases onto plate and place wax paper on bottom of cake. Place cooling rack under wax paper and gently flip back over so that cake is now cooling on a piece of wax paper on the cooling rack.

Allow cakes to cool completely - this may take a couple of hours - before frosting. Like I said in the notes, I like to make these the day before and allow to sit out and cool for most of the day. They are much easier to work! Right before frosting, use a sharp paring knife to gently scrape the top layer of each cake. This two layers will become the inside and it looks prettier if you don't see dark cake next to light frosting. If you are using a dark frosting like chocolate, skip this step!
Nutrition Facts
Grain Free Vanilla Bean Birthday Cake
Amount Per Serving
Calories 7002
Calories from Fat 4500
% Daily Value*
Total Fat 500g 769%
Cholesterol 2041mg 680%
Sodium 2095mg 87%
Potassium 2291mg 65%
Total Carbohydrates 549g 183%
Protein 138g 276%
* Percent Daily Values are based on a 2000 calorie diet.