Things have been busier than normal around here, hence why you have seen me a bit less. Some days I cannot believe the amount of "stuff" that I need and want to get done. I think I have reached that point in my life where I literally just do not have enough hours in the day.
I keep telling myself I need to take something or something(s) off my plate but every time I sit down and think about it, the things I have committed myself to make me happy. Sharing my recipes on here is one of them so don't expect that to change much, although I think I may post recipes a bit less over the summer.
This horseradish crusted london broil is exactly the type of recipe I like to make when things are hectic. It only has a handful of ingredients, virtually no prep time and cooks in less than 20 minutes.
I served it with a simple side dish of steamed green beans and a huge side salad tossed with this Dijon Shallot Vinaigrette that I already had made in the fridge and pairs perfectly with the hint of Dijon on the meat.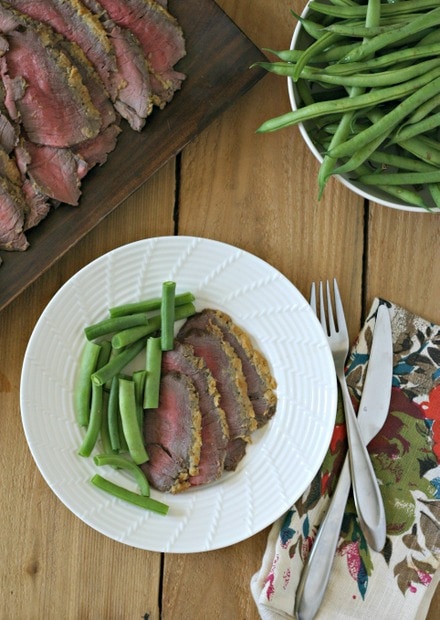 NOTES:
Make sure to get "prepared horseradish" and not "horseradish sauce" (at least in the US!). Prepared horseradish is horseradish that is peeled, grated and mixed with vinegar or some other acidic medium. It is sold in the refrigerated section. Horseradish sauce is peeled and grated horseradish that is usually mixed with mayo or sour cream and frequently has a bunch of additives. Like most things purchased in a grocery store, the fewer ingredients, the better. Make sure to read the label as I've seen prepared horseradish with soybean oil added to it (gross).
Everyday Maven
Yields 6
Horseradish Crusted London Broil
5 Points Plus Per Serving -- Serves 6
5 minPrep Time
20 minCook Time
25 minTotal Time
Ingredients
2 pounds London Broil
1/4 cup prepared horseradish
2 Tablespoons Dijon mustard
1/2 teaspoon freshly ground black pepper
pinch kosher salt
Instructions
PREP:

In a small bowl, combine horseradish, dijon, black pepper and salt. Mix until well combined.
Place london broil in a gallon size ziploc bag and pour horseradish mix over meat.Seal and marinate in fridge for 4 to 6 hours.

COOK:

Preheat oven to Broil. Line a baking sheet with tinfoil and insert an elevated cooking rack. I usually
Broil for a total of 20 minutes (based on 1 1/2 to 2" thickness), turning once. halfway through cooking.
Remove and allow to rest for 5 to 10 minutes. Thinly slice against the grain, serve and Enjoy!
NOTE: This is for MEDIUM-RARE temperature meat. Adjust cooking times accordingly for desired doneness as well as meat thickness. If using a thermometer, internal temperature should be at least 145F.
7.8.1.2
2482
https://www.everydaymaven.com/horseradish-crusted-london-broil/
Recipe and Photos Copyright of EverydayMaven 2011-2016