Grilled Beef Fajitas with Extra Veggies! A quick, easy and fun dinner that everyone loves. Options for lettuce wraps and gluten free tortillas included.
I have a thing for fajitas. I actually cannot believe that I've been sharing my recipes with you guys for over 5 years and this is the first fajita recipe I've shared. It's an outrage!
Let's change that right now. My Grilled Beef Fajitas with Extra Veggies are super quick and easy. I like to marinate the sliced beef and veggies overnight or early in the morning. The flavor is so much better but if you are pressed for time or want to make these last minute, give the marinade at least an hour. It's worth it!
When I partnered with Coyote Outdoor Living earlier this year to bring you some of my favorite grilling recipes using one of their fabulous grills, I made a list of some of my favorites. The list was LONG and while I had to edit, edit, edit it down, Grilled Fajitas remained at the top.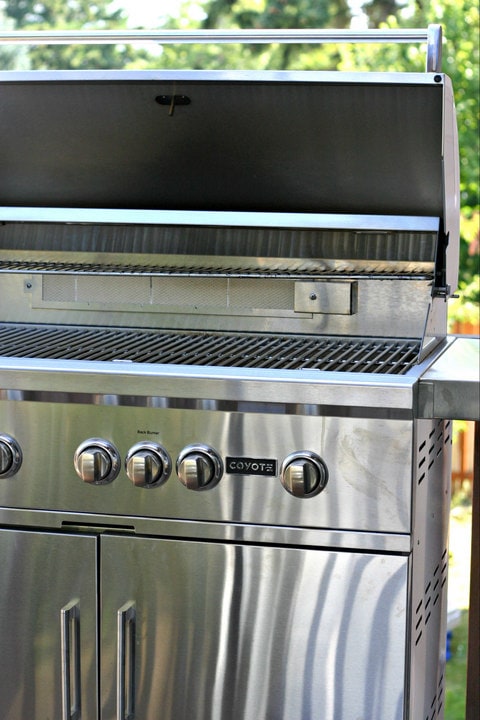 While this recipe features Beef, I've made this with Chicken, sliced Pork, Shrimp and even a combination of different proteins depending on what I have available, what's on sale and what we are in the mood for.
One of the best things about Fajitas — besides how good they taste — is that they fit into a variety of eating plans.
Here are some tips (it's already GLUTEN FREE):
PALEO OR WHOLE30: Omit Dairy products and use Coconut Aminos in place of the Tamari. Use lettuce wraps or Napa Cabbage in place of the tortillas.
DAIRY FREE: Omit shredded cheese and Greek yogurt or Sour Cream. I recommend Guacamole instead of sliced avocado and/or this Dairy Free Avocado Crema.
LOW CARB: Omit tortillas and use lettuce wraps or Napa Cabbage. Reduce the onions to 2 large and make the slices a bit thicker.
NUT FREE: Use lettuce wraps or Napa Cabbage or be sure to buy Nut Free tortillas.
Alyssa Brantley | EverydayMaven
Yields 6
Grilled Beef Fajitas with extra Veggies
10 minPrep Time
15 minCook Time
25 minTotal Time
Ingredients
FAJITAS:

1 1/2 pounds top round, thinly sliced
4 to 5 large sweet onions, peeled, halved and sliced into 1/2" pieces
1 large green bell pepper, halved, seeds removed and sliced into 1/2" pieces
1 large red bell pepper, halved, seeds removed and sliced into 1/2" pieces
1 large yellow bell pepper, halved, seeds removed and sliced into 1/2" pieces
1/4 cup avocado oil
1/4 cup fresh squeezed lime juice (about 2 large lime)
2 T gluten free Tamari (or Coconut Aminos )
1 1/2 teaspoons kosher salt
1 teaspoon Mexican chili powder
1/2 teaspoon paprika
1/2 teaspoon ground cumin
1/2 teaspoon ground black pepper

TOPPINGS (see NOTES above for substitutions):

12 gluten free tortillas (such as Rudi's or Udi's)
sliced avocado OR Guacamole
Pico de gallo OR salsa
Shredded cheese
Greek yogurt OR Sour Cream
Instructions
EQUIPMENT: I used the

Coyote Outdoor Griddle

accessory for my Coyote Grill to make these Fajitas quick and easy.

PREP:

Thinly slice beef and set aside.
Clean bell peppers and slice each in half from the top to the stem. Remove the seeds and ribbing. Slice into 1/2" thick pieces and place in a separate bowl.
Peel onions, halve and slice into 1/2" pieces. Add sliced onions to bowl containing sliced peppers.
In a measuring cup or other small bowl, combine avocado oil, lime juice, Tamari, salt, chili powder, paprika, cumin, and black pepper until well mixed. Pour 1/3 of the marinade over the sliced beef and the rest over the vegetables. Toss to coat, cover both bowls and refrigerate until ready to grill.
Prep all of your toppings and have ready to go before you begin grilling the Fajitas!

GRILL:

Place Coyote Griddle insert over grill burner and preheat to medium-heat heat.
Once hot, add marinated onions and peppers (in batches so they brown and don't just steam). Stir frequently and keep lid up. Cook time is approximately 4 to 6 minutes or until just tender and starting to brown.
Next, add sliced beef (drained of marinade) and cook 3 to 4 minutes, stirring frequently, until cooked through.
Remove cooked beef and toss with cooked onions and peppers. Serve hot with toppings and Enjoy!
7.8.1.2
2933
https://www.everydaymaven.com/grilled-beef-fajitas/
Recipe and Photos Copyright of EverydayMaven 2011-2019
DISCLOSURE: This post is part of a series of posts sponsored by Coyote Outdoor Living. Coyote Outdoor Living has compensated me for my time to develop this recipe. Thank you for supporting the brands that make EverydayMaven possible. All opinions are my own.