I don't think enough people are cooking with and appreciating parsnips. They may just be one of my favorite fall/winter root vegetables. They are reminiscent of a carrot but with a subtle sweetness. I like to make fries out them, mash them, roast them and, of course, use them in soup.
This creamy Parsnip Soup is dairy-free, gluten-free, paleo, whole30 and unbelievably easy to make.
Start by sautéing the garlic, onion and parsnips in butter until they develop a nice rich flavor, then puree them and add in the rest of your ingredients. Yep, that easy.
Plus, for those on Weight Watchers, a 2-cup serving is only 3 Points Plus!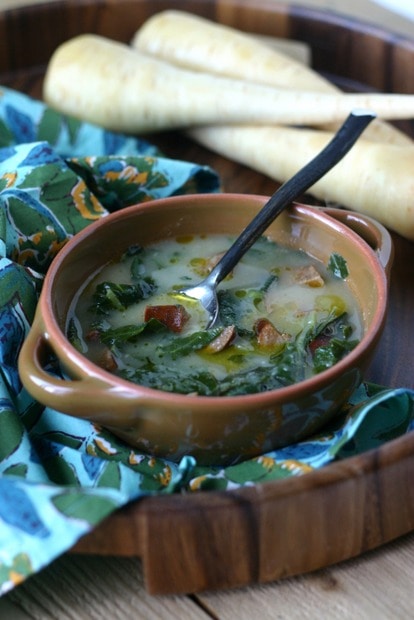 NOTES:
I used turkey andouille sausage from Wellshire Farms but any (clean ingredient!) poultry or pork andouille sausage would work!
I have started stocking my freezer with Earthbound Farms Organic Collard Greens (and Kale). This product is perfect for soups, eggs, or a quick side of greens. The reason I like them is that they are already cleaned, flash frozen, really tender and about the same price as a large head of collard greens. Major time saver. The company is not paying me to say this and most likely as no idea I am even mentioning their product – I just really love it!
Everyday Maven
Yields 8
Creamy Parsnip Soup with Sausage and Greens
3 Points Plus Per Serving -- 8 Servings -- Individual Serving Size is 2 Cups
10 minPrep Time
35 minCook Time
45 minTotal Time
Ingredients
1 1/2 Tablespoons butter
1 small head garlic (about 10 to 12 small cloves), smashed
1 large yellow onion, roughly chopped
1 pound parsnips, peeled and roughly chopped
1 1/2 teaspoons kosher salt
7 to 10 turns freshly ground black pepper
10 cups chicken stock
1 sprig fresh rosemary
12 ounces turkey andouille sausage (see NOTES)
10 ounces chopped collard green leaves (stems removed) (see NOTES)
Instructions
PREP:

Peel and smash garlic and onion and parsnips.
Cut sausage into quarters and dice.
Remove collard green leaves from stems, wash and cut into bite sized pieces (see NOTES for alternative).

COOK:

Heat a large soup pot over medium high heat. Once hot, add butter and then garlic, onion, parsnips, salt and black pepper. Cook, stirring occasionally, for 10 minutes.
Add broth and sprig of rosemary. Bring to a boil. Once boiling, reduce heat to a simmer and continue cooking, uncovered, for 15 minutes or until parsnip chunks are fork tender.
In the meantime, heat a large non-stick frying pan over medium heat and saute the sausage for 10 minutes. Drain from fat and set aside.
Remove pot from heat and carefully remove rosemary sprig. If there are any small rosemary leaves try to remove with a tongs.
Puree soup using an immersion blender (or carefully in small batches in blender or food processor).
Return pureed soup to stove over medium heat and add sauteed sausage and collard green leaves.
Continue cooking for 10 to 12 minutes until collard greens leaves are tender. Adjust salt and pepper if necessary, serve with a drizzle of extra virgin olive oil and Enjoy!
7.8.1.2
2793
https://www.everydaymaven.com/creamy-parsnip-soup/
Recipe and Photos Copyright of EverydayMaven 2011-2019