We are having quite the taco moment in our house. My son is into tacos right now, I mean, like REALLY into them. He would happily eat tacos for breakfast, lunch and dinner if we would let him. Not such a bad thing though because who doesn't love tacos in some form right?
Enter this Paleo Taco Dip. With the Super Bowl coming up, I knew I needed to create a fun-to-eat party snack that would please everyone (especially my son) and figured I would test it out during the playoff game.
Initially, I planned to layer the dip in a large trifle dish but last week when I was at Bed, Bath and Beyond and saw these mini trifle dishes on clearance for $4.99 (for a set of 4!). I grabbed two boxes – such a great deal!
We had our individual Taco Dip's yesterday while watching the Seahawks-49'ers game. I served them with some Plantain Chips that I picked up at Whole Foods (this brand) and they were gone before the 1st Quarter was over. GO SEAHAWKS!!!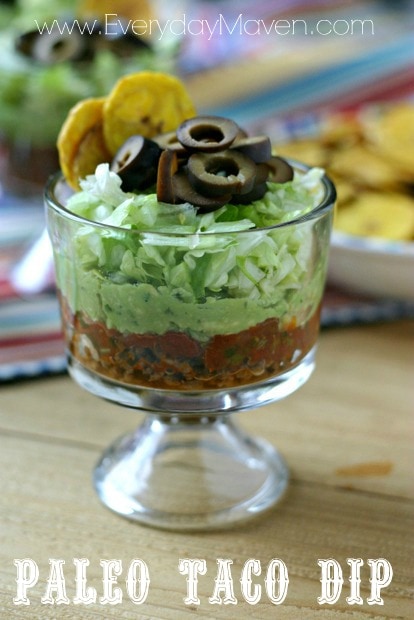 NOTES:
If you use a store-bought or different Taco Seasoning, add it slowly and keep tasting as you may need more or less than the 3 Tablespoons I used of my homemade spice mix.
I made this mild on purpose so it would be kid-friendly but if you want to amp up the flavor a bit, add some chopped onions and/or jalapenos in with ground beef.
As for the layering, even though I think it would look prettier with the greens (guac and lettuce) apart, I chose to layer based on how the individual ingredients would hold up over time. Ground beef on the bottom with salsa next so that the salsa juice would drip over the meat and add flavor. Guacamole on top of the salsa so that the acid in the salsa would help keep it fresh and green. A sprinkle of crisp, chopped iceberg lettuce for texture and so that nothing would be on top of it to make it wilt with a finish of olives for color and a salty bite!
Did you know that most canned black olives have ferrous gluconate added to the brine to turn them black? Here is a post from Gluten Free Gigi that discusses ferrous gluconate in depth. Personally, I avoid buying canned black olives with this additive. Some brands that I know of that sell ferrous gluconate FREE black olives are 365 Brand from Whole Foods, Lindsay Olives, Natural Value and Santa Barbara Olive Company.
Everyday Maven
Yields 8
Paleo Taco Dip {Dairy Free}
7 Points Plus Per Serving -- Serves 8
20 minPrep Time
10 minCook Time
30 minTotal Time
Ingredients
Recipe and Photos Copyright of EverydayMaven 2011-2016