With Thanksgiving just a little over a week away, my mind is constantly thinking about side dishes so no better time than now to share an old favorite in case you are racking your brain thinking about side dishes as well!
This Vegan Creamed Kale is a variation on classic creamed spinach and combines many of my favorite flavors together– coconut oil, coconut milk, kale and sweet onion to deliver a healthy, yet rich-tasting side dish full of goodness that will leave you satisfied – vegan or not!
I like to garnish this side dish with some unsweetened, grated coconut. If you have a couple extra minutes and want to toast it, it's even better!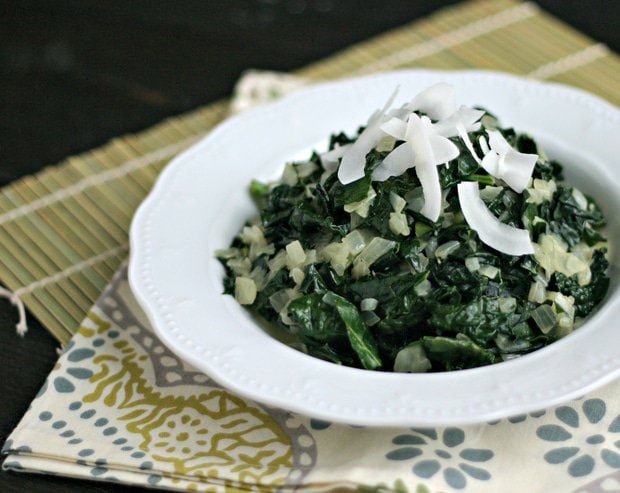 Sweet onion is also called white onion, Spanish onion, Vidalia onion, Texas Sweet onion and Walla-Walla onion – try to find one if you can – it really adds a lot to this dish!
For instructions on how to easily remove the Kale leaves from the stems, click here.
If you only have full-fat canned coconut milk, use 1/2 cup whisked with 1/4 cup cold water.
Everyday Maven
Yields 4
Coconut Creamed Kale
2 Points Plus Per Serving -- Serves 4
10 minPrep Time
15 minCook Time
25 minTotal Time
Ingredients
1 1/2 Tablespoons organic virgin coconut oil
1 medium clove garlic, minced
1 large sweet onion, chopped
12 ounces kale leaves cut into bite sized pieces
1/2 teaspoon kosher salt
1/8 teaspoon ground white pepper
Pinch fresh grated nutmeg
3/4 cup light coconut milk (canned)
Unsweetened, grated coconut for garnish (toasted if possible)
Instructions
PREP:

Begin by mincing garlic and chopping onion.
Next, clean and stem kale. Cut the kale leaves into bite sized pieces and set aside. Measure coconut milk and spices.

COOK:

Heat a large skillet over medium high heat. Once hot, add in coconut oil.
Add garlic and onion, sauté for 5 to 6 minutes, until softened.
Add kale, stir and cook for 2 to 3 minutes, until leaves begin to wilt.
Finally, add in salt, white pepper, nutmeg and coconut milk. Cook, stirring frequently, for an additional 4 to 5 minutes until kale is soft and coconut milk is thickened.
Taste, adjust seasoning if necessary, serve garnished with coconut and Enjoy!
7.8.1.2
2786
https://www.everydaymaven.com/vegan-creamed-kale/
Recipe and Photos Copyright of EverydayMaven 2011-2019