Tips for Planting an Organic PNW Vegetable Garden. Done in partnership with Fred Meyer Garden Center. 
Happy Mother's Day weekend! Our family has gotten into sort of a routine when it comes to planting or anything to do with gardening.
It started a couple of years ago when we had our P-Patch (community garden) in Seattle. Work on the soil and weed like crazy Easter weekend and then get everything planted by Mother's Day. There are a number of cool-weather plants that can go in April here, like root veggies, hardy greens, potatoes, lettuces and beans but the majority of what gets me jazzed for planting has to wait until the weather is just a bit warmer.
This year I partnered with Fred Meyer Garden Center to bring my organic veggie and herb garden to life. My local Fred Meyer has an impressive garden center with tons of local, organic starts, organic seeds, good soil, compost and tools galore. I was able to get everything we needed there!
We gave up our P-Patch last year before we moved and we moved into the new house way too late in the season to plant anything. So this is effectively our first season creating a garden here. Our new house already has established gardening spots. There is one wood raised bed out front facing South and a stone enclosed bed on the side of the house facing West.
The front bed was filled with tons of weeds and had essentially become a cat litter box for our neighbor's three indoor/outdoor cats. The side bed was also rife with weeds but had a ton of beautiful strawberry plants coming back.
For the side bed, we kept about 1/4 of the existing strawberry plants and decided to plant some butternut and spaghetti squash among them with the thinking that once the strawberries are done for the season, the squash will have plenty of room to thrive.
Then we used the rest of the side bed to plant hardy greens like Kale, Collard Greens, Radicchio and Mesclun. There is also some Choi, Radishes and some un-planted space that we plan to add more lettuces in. Our game plan is to rotate planting lettuce over the next few weeks so that we have lettuce at different stages to harvest. Our goal is to get a salad a day from this garden before it gets too hot and they bolt!
We used this natural Alaska Fish Fertilizer we found at the Fred Meyer Garden Center to help feed the starts immediately after transferring them. Warning– it stinks like crazy, so wear gloves when you dilute it!
Since the front bed faces South and has unobstructed sun all day, we decided to put our more sun-hungry plants there. We planted some sunflower seeds in the very back and then two different types of Heirloom Tomatoes. Next two sweet cherry tomato plants – one for each of the boys to snack on and keep them excited about "gardening".
A lot of people in our area have only mixed success with peppers but we decided to go for it. We planted one each of baby sweet bell pepper (mixed colors), jalapeno (hello pickled jalapenos) and an orange bell pepper. We finished the bed with two cucumber starts and two zucchini.
In the past, one of the biggest gardening mistakes we've made was overplanting, so this time around we gave each plant a lot of space making sure they weren't crowded.
Our kitchen is on the upper level and while we could have made room in one of the beds for herbs, I really wanted the herbs closer to the kitchen. It's just so impractical for me to run outside to clip herbs at dinnertime, if it means leaving my kids alone in the house for 5 minutes. It's not happening with a two-year old know what I'm saying?
My husband was thinking of those wrought iron style deck planter box holders but I hate how they eventually look rusted and that you have to install them. I found these railing planters at the Fred Meyer Garden Center. They come in three different colors, do not need to be installed, self-stablize from the weight of soil and have optional drain plugs on the bottom that can be easily removed.
We got two of them in the light brown and I planted three herbs in each. Box #1 has organic spearmint, rosemary and chives.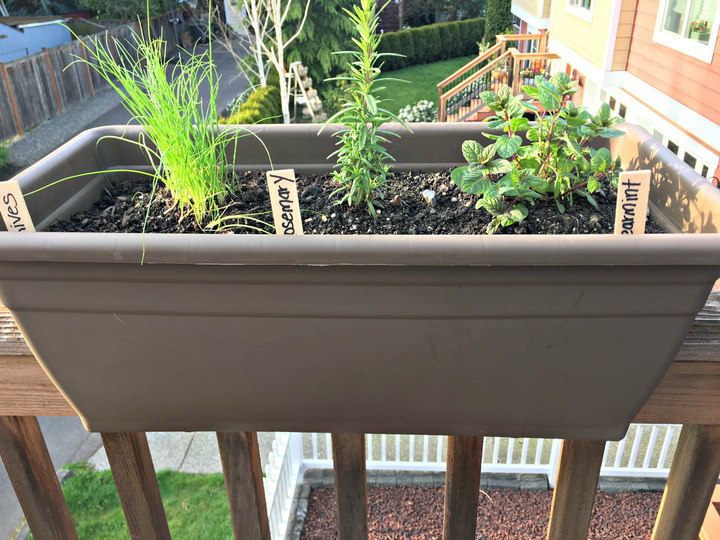 Box #2 has organic basil, parsley and cilantro. These are box on the upper deck railing right off of my kitchen so super easy access when cooking, convenient to water and great sun!
Now we have our fingers crossed that we don't have any crazy storms or cold spells and that the starts do well! Some other things that we are doing are putting down crushed eggshells on both beds to deter the cats from using the beds as a litter box and for slugs.
Also, I've heard that bunnies can be a problem so we are thinking of putting up some chicken wire or other fencing to keep them out. Haven't solved that yet but if you have had this issue, I would love to hear what worked for you.
As always, gardening is an on-going learning experience. I'm excited to see how these plants do and very hopeful that we will be able to harvest a nice amount of produce from them. What are you planting this year?
DISCLOSURE: This post is sponsored by Fred Meyer. Fred Meyer has compensated me for my time to craft this post. Thank you for supporting the brands that make EverydayMaven possible. All opinions are my own.
This is a sponsored conversation written by me on behalf of Fred Meyer. The opinions and text are all mine.