I've been meaning to post this recipe for weeks now and I've even told some of you that it was being posted weeks ago, so if you were waiting for this recipe, I sincerely apologize.
If you are pregnant, breastfeeding or know someone who is, then you must share this recipe for Moringa Lactation Bites with them. Pronto.
Especially if you are Grain Free, Gluten Free or Paleo. It is REALLY hard to find a lactation cookie or lactation treat that is free of grains and sugar. These Moringa Lactation Bites are not only Grain Free but Refined Sugar Free and Vegan!
If you are not familiar with Moringa (Moringa Oleifera also called "Malunggay"), it is a multi-purpose tree traditionally grown in the Philippines and native to parts of Africa and Asia. It is often called the "Miracle Tree" or "Tree of Life" as almost all of the parts are edible and used for different medicinal purposes.
Today, we are talking about the leaves which are dried and ground up into a powder. I buy both the powder form from Organic India and the capsule form from Organic Veda. You can use the powder to make these Lactation Bites or to toss in smoothies. I know some moms who also throw a pinch or two into tea but I don't like the taste as a tea (too grassy). As for the capsules, I take those 3x a day to help increase my breast milk supply.
I first heard about Moringa from a lactation consultant here in Seattle. I've been having a really hard time with breastfeeding my newest little one and after running into some supply issues early on was desperate for anything that would help.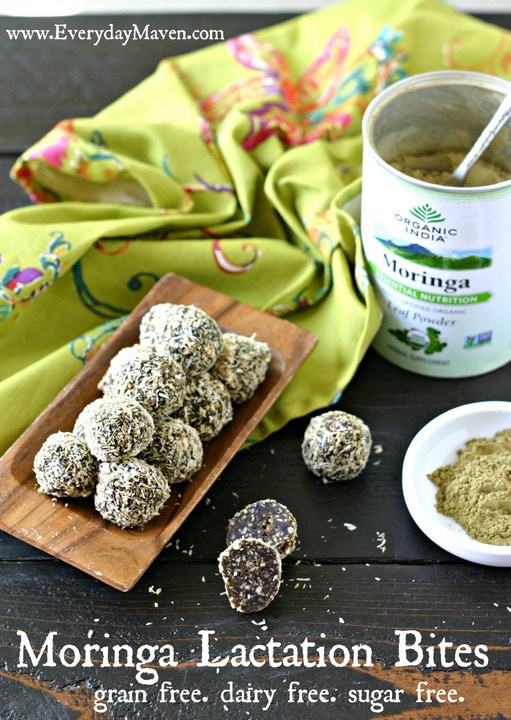 I tried Fenugreek, Mother's Milk tea and even oatmeal but none of it really did anything for me. When I started taking the Moringa capsules I saw a 30% increase of my supply within 48 hours (which has been maintained!). I know exactly how much I produce because I have been exclusively pumping (around the clock) and bottle-feeding Baby Brother since he was about 3 weeks old. That is a long story and for a whole different conversation.
If you are unsure of Moringa, there is a lot of info on the internet about Moringa's different uses. For me, I chose to go with the recommendations of the lactation consultants and also I read this double-blind scientific study from the Philippine Journal of Pediatrics showing the increase of breast milk supply in moms of pre-term infants who consumed Moringa.
As for the taste, Moringa can be quite grassy. This recipe really conceals that heavy grassy taste and even more so when you pop these in the freezer!
If you like Matcha (real Matcha powder – don't compare it to Starbucks – they blend their Matcha powder with sugar!), you won't mind the taste and smell of Morigna leaf and can add it to smoothies, teas, etc.. If you are not crazy about the real Matcha/Moringa super grassy taste and just want the nutritional benefits, stick with this recipe and you won't really taste it!
NOTES:
This is not medical advice and I am not advocating for anyone to begin taking Moringa. I am just sharing what has worked for me.
You should check with your Dr. or lactation consultant before taking any herbal supplements.
Did you make this recipe? Please give it a star rating below!
Moringa Lactation Bites
Moringa Lactation Bites. Paleo Lactation Bites.
Keyword:
Moringa Lactation Bites. Paleo Lactation Bites.
Ingredients
1

cup

(about 15 to 16) large pitted Medjool dates

1

cup

unsalted dry toasted pecans

or pecan pieces

1/4

cup

organic

virgin coconut oil

1/4

teaspoon

pure vanilla extract

1/4

cup

moringa leaf powder

2

tablespoons

cocoa powder

1/8

teaspoon

cinnamon powder

pinch

finely ground sea salt

1/4

cup

unsweetened shredded coconut,

1/2

cup

unsweetened shredded coconut,

toasted (for rolling)
Instructions
Begin by placing the pitted dates, pecans, coconut oil, vanilla, moringa, cocoa powder, cinnamon, and sea salt in the bowl of a food processor fitted with the chopping blade.

Pulse until chopped and a chunky paste is formed. Next, add the 1/4 cup of coconut and pulse a couple of times until incorporated.

Remove moringa mixture to a bowl and set aside. Line a baking sheet with parchment paper, wax paper or a

Silpat

.

Next grab the remaining 1/2 cup shredded coconut and quickly toast in a non-stick skillet over medium heat. If you need a tutorial on how to toast coconut -

click here.

Transfer toasted coconut to a shallow bowl and allow to cool for a few minutes.

Using a teaspoon, scoop the moringa mixture and gently roll into balls. Dip each ball into the toasted coconut until well coated and transfer to baking sheet. Repeat until all of the mixture is used up.

Place tray in fridge or freezer to set. Once set, transfer bites into a container and keep in the fridge or freezer (depending on which texture you prefer). Eat as desired and Enjoy!
Nutrition Facts
Moringa Lactation Bites
Amount Per Serving
Calories 68
Calories from Fat 36
% Daily Value*
Fat 4g6%
Sodium 1mg0%
Potassium 89mg3%
Carbohydrates 6g2%
Vitamin A 10IU0%
Vitamin C 5.4mg7%
Calcium 19mg2%
Iron 0.3mg2%
* Percent Daily Values are based on a 2000 calorie diet.