Use your Instant Pot to make this flavorful Beef Heart Chili and increase your consumption of nutrient dense organ meats in a snap!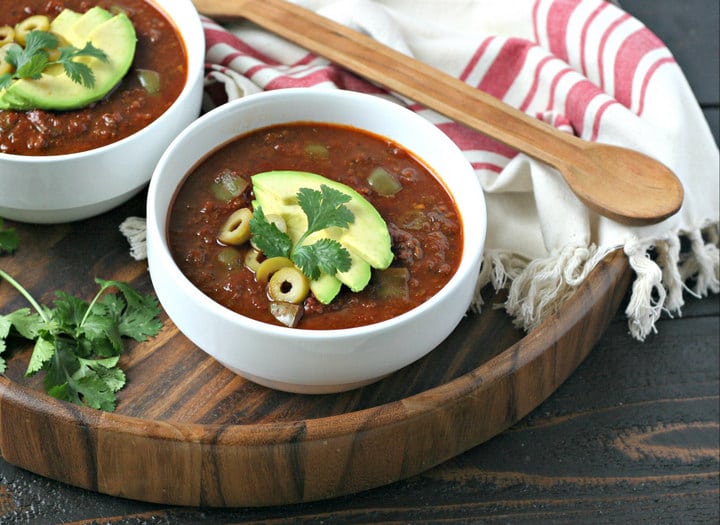 Valentine's Day is tomorrow and I have hearts of all kinds on my mind, including beef heart. Because that's normal right?
Like so many of you, we are always trying to up our consumption of nutrient dense organ meats but truth is, for the most part, we are totally grossed about about it. Other than my Crispy Spiced Chicken Livers recipe (which I can still only tolerate once in a while), it's just a challenge for me to actually enjoy eating offal.
Last year a local farmer gave me a couple packages of pastured Beef Hearts and I have been struggling to find a way to use them that didn't make me want to gag. When I got an Instant Pot (bow down – best kitchen appliance EVER!) for Christmas, I knew the hearts were destined for it since the Instant Pot would quickly tenderize the sometimes tough, super-lean muscle meat.
It took me all of about two minutes to decide to use them in chili since: 1. I make chili all the time in the winter and 2. It seemed like an easy way to conceal the hearts.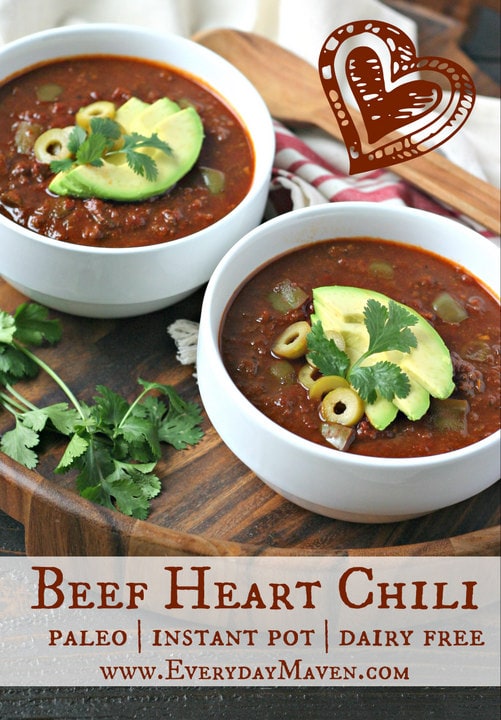 And, it worked like crazy. The chili is delicious. You can NOT taste beef heart in any way, shape or form. Plus, the Instant Pot came through like a champ and tenderized the hell of the heart.
Need more proof? My 1-year old and (now!) 6-year old happily ate it over and over. You know when it passes the kid test, you are pretty much golden!
NOTES:
If you don't have an Instant Pot, get one. I kid, I kid. But seriously, I LOVE this appliance. If you can swing it, it's worth every penny and more.
You could make this in a slow cooker. I recommend starting on the stove top to brown the meat and get as much flavor from the aromatics as possible. Transfer to a slow cooker and cook on low for 8 hours.
To make on the stove top, you can use the cooking instructions from my Beef and Butternut Squash Chili but once you get to a covered simmer, keep the light low and simmer for at least 90 minutes to 2 hours until the heart is tender.
Here is a great post about "Why" we should all be eating more organ meats from The Paleo Mom.
Here is a great video from Chef Chris Cosentino on How To Clean A Beef Heart
Everyday Maven
Yields 8
Instant Pot Beef Heart Chili
3 Smart Points Per Serving -- Serves 8
20 minPrep Time
45 minCook Time
1 hr, 5 Total Time
Ingredients
1 Tablespoon olive oil
4 medium cloves garlic, finely chopped
1 small jalapeno (see NOTES on spiciness), finely chopped
1 large yellow onion, finely chopped
2 medium stalks celery, finely chopped
1 pound ground beef, (chili grind if you can get it)
1/2 pound trimmed beef heart, cut into 1/4" pieces (see NOTES for video)
3 Tablespoons Mexican chili powder
1 Tablespoon ground cumin
2 teaspoons dried oregano
1 1/2 teaspoons kosher salt
1/2 teaspoon ground black pepper
2 dried bay leaves
28-ounce can crushed tomatoes
16-ounce can tomato sauce
4-ounce can diced green chilies, strained
1 medium green bell pepper, seeds and ribs removed, cut into bite sized pieces
Toppings: olives, avocado, fresh cilantro
Instructions
Plug in Instant Pot and set to "Saute". Once hot, add olive oil and then chopped garlic, jalapeno, onion and celery. Saute for 5 to 7 minutes or until onion is beginning to turn translucent.
Add ground beef and beef heart along with spices. Toss until well coated and continue cooking until meat is mostly browned.
Add crushed tomatoes, tomato sauce, green chilies and green bell pepper. Stir to mix.
Secure lid and change Instant Pot to "Meat / Stew" setting OR manual 35 minutes.
Serve warm topped with sliced olives, avocado and fresh cilantro and Enjoy!
7.8.1.2
2368
https://www.everydaymaven.com/instant-pot-beef-heart-chili/
Recipe and Photos Copyright of EverydayMaven 2011-2019