Learn everything you need to know to make the Best, Authentic Philly Cheese Steak Recipe at home from a Philadelphia native! What type of meat, cheese, and bread to choose and more. Bonus guide: Where to get the Best Cheese Steaks in Philly!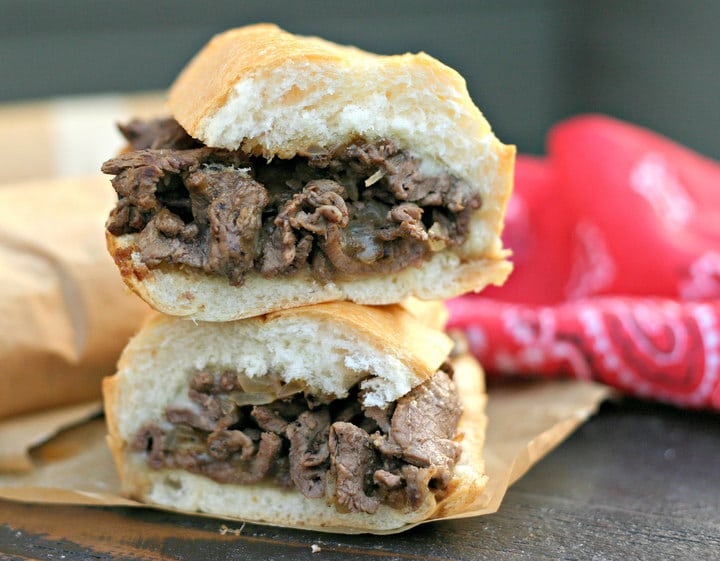 This post has been A LONG TIME coming. I grew up in Philly and while I now live on the West Coast, I lived there most of my life. Cheesesteaks are something I grew up on and know a lot about. Probably too much 😉
People in Philly take Cheesesteaks really, really seriously and everyone has their fav spot. While cheesesteaks have some slight variations from place to place and personal preference, there are some things that really matter.
AUTHENTIC PHILLY CHEESESTEAKS:
… NEVER (I repeat, NEVER) have green peppers on them. That is something that probably started at a chain restaurant. (I'm looking at you Chili's.) Seriously though, if you order a cheesesteak and it has bell peppers on it, eat something else. Not Legit.
…are always on good bread. The bread matters. You need to find a soft hoagie roll that is light and airy on the inside and just very slightly crusty on the outside. We are not talking about baguette crusty at all. The king of cheesesteak rolls in Philly is Amorosos.
…do not have mayonnaise on them.
…cook the meat and onions in oil. Usually soybean or canola oil. I upped the game and used Avocado oil. But, NEVER butter.
HOW TO MAKE A PHILLY CHEESE STEAK SANDWICH:
Fry onions in oil for a few minutes until starting to brown.
Add sliced or chopped meat along with a generous amount of salt and pepper. Cook until pink is gone.
Separate meat into piles and add sliced cheese on top.
As soon as the cheese begins to melt, place the sliced roll on top and use a large spatula to lift and flip the sandwich over.
Serve hot and Enjoy!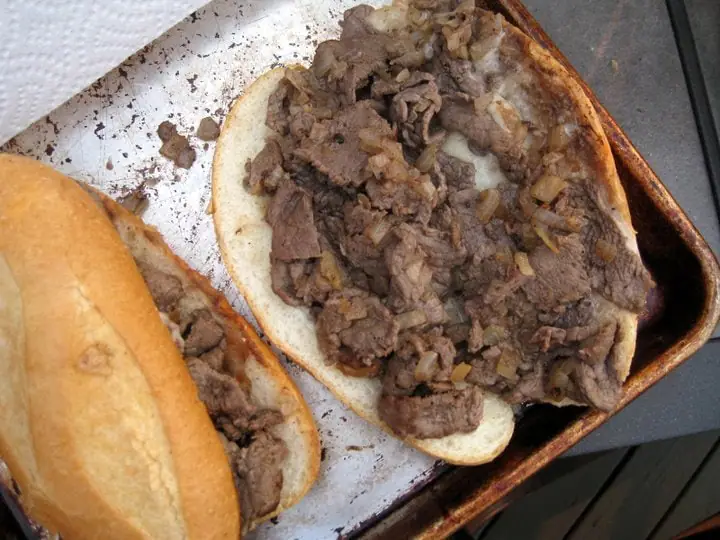 WHAT KIND OF MEAT FOR PHILLY CHEESE STEAK?
Boneless Ribeye is the preferred cut of meat but it's usually super expensive. Sirloin works just as well and here is a little secret — a lot of the real cheesesteak joints actually use this or a blend of Sirloin and Ribeye. Most butchers (even at the grocery store) will properly slice the meat for you, you just need to give them a heads up when you first get in the store so that they can freeze the meat for 1/2 hour before thinly slicing. Or, better yet, call it in so it's ready when you get there (just tell them sliced "for cheesesteaks")!
If you can't get them to slice the meat for you, you can freeze it for 20 to 30 minutes and use a very sharp chef's knife to thinly slice against the grain. Another option is an at-home meat slicer. If you are going to be making a ton of cheese steaks or plan to make Homemade Philly Cheese Steak sandwiches on the regular, this might be a good investment!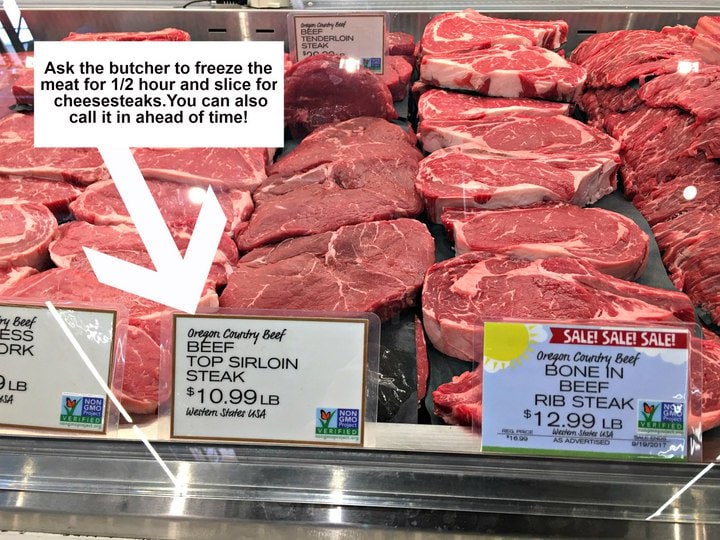 WHAT KIND OF CHEESE?
There are really three choices:
Whiz. Yes, as in Cheez Whiz. This is a huge thing here and some locals can't have a cheesesteak in Philly without whiz. It's melty and gooey and adds another layer of salty flavor.
Provolone. Usually regular provolone. When you start getting into sharp provolone, you've moved on to a hot roast pork or other type of sandwich. Also called "Provi".
American. American cheese doesn't have as much flavor but it melts beautifully.
Personally, I am a provolone girl all the way but I respect the Cheese Whiz choice because that is how a lot of people are used to a real cheesesteak. I can also get down with American cheese but for me, nothing compares to high-quality provolone.
HOMEMADE CHEESESTEAK TIPS AND TRICKS:
You need more salt and pepper than you think. Don't waste your time using freshly ground pepper. You want regular old black pepper from a tin can.
You need to fry the onions in oil. Don't skip this. The cheesesteak is not health food. Think of this like birthday cake. If you want it to taste good, you need to cook it the way it's supposed to be done.
Onions. We always go with fried onions but it's legit to order raw onions. Some places serve diced onions (that's my preference) and some serve super thin sliced onions, either works! For this recipe, you want yellow onions.
Hot Peppers are almost always a good option. Usually called "Hots", they are pickled hot cherry peppers of various colors, some places will offer a hot pepper relish or some other kind of pickled hot pepper. Long hots are usually reserved for roast pork sandwiches but are also delish on a cheesesteak.
Gluten-Free Option: This is the first gluten post I've posted on here in like 4 years. I don't have to be gluten-free but we keep our house GF because of our older son and because we all feel significantly better avoiding gluten 98% of the time. With that being said, while we go with real hoagie rolls for cheesesteaks, there are some decent GF options out there. I would go with either Three Bakers Gluten Free Hoagie Rolls or Schar Gluten-Free Sandwich Rolls.
Low Carb Option: My Philly Cheese Steak Stuffed Peppers take all of the goodness of the classic Philly Cheese Steak recipe and ditch the bread.
Griddle or Cast Iron? The best way to cook a Philly Cheese Steak sandwich is on a flattop griddle. I realize that most people don't have that at home so another fantastic option is a large stainless steel frying pan or cast iron pan. Don't use a non-stick pan or get crazy and bake the ingredients. Bottom line is that you need to brown the meat and onions to get good flavor!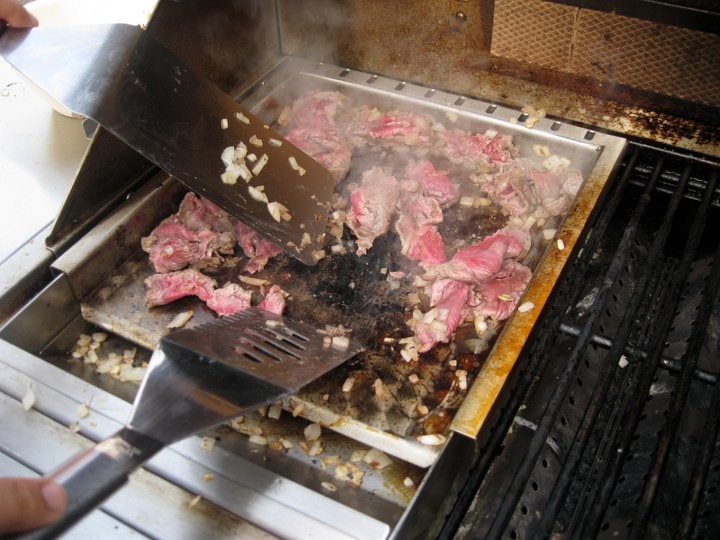 WHERE TO GET THE BEST CHEESESTEAK IN PHILLY:
In case you find yourself in Philadelphia and want to go get an authentic Philly Cheese Steak, I've listed my top 8 recommendations in order of where I would go:
HOW TO ORDER A PHILLY CHEESESTEAK:
Pick your cheese (Provolone, American, Whiz).
Decide if you want your cheese steak Wit' or Wit'out fried onions.
Examples:
"Give me a Provi wit'." Translation: "May I have a Provolone Cheese Steak with fried onions, please?"
"Two Americans wit'." Translation: "May I have two Cheese Steaks with American cheese and fried onions, please?"
"One Whiz wit'out". Translation: "May I please have a Cheese Steak with Cheez Whiz and no fried onions?"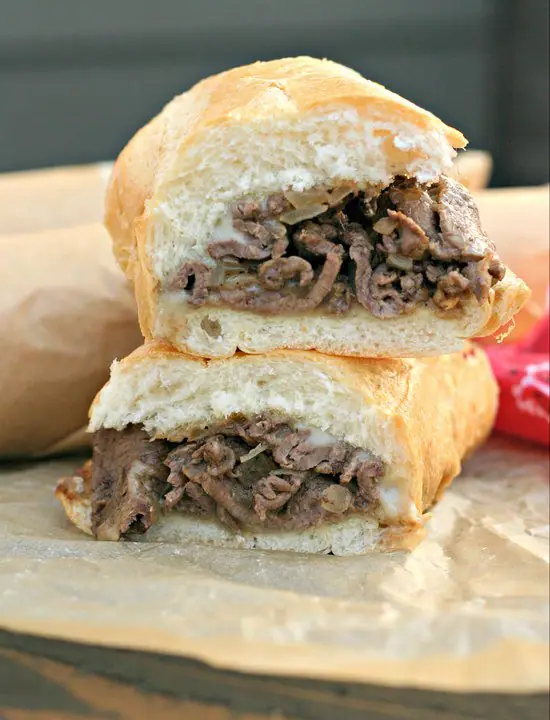 Did you make this recipe? Please give it a star rating below!
Philly Cheese Steak Recipe
Learn everything you need to know to make the Best Philly Cheese Steak Recipe at home from a Philadelphia native! What type of meat, cheese, and bread to choose and more.
Course:
Lunch, Mains, Sandwiches
Keyword:
best philly cheese steak recipe, homemade philly cheese steaks, how to make philly cheese steaks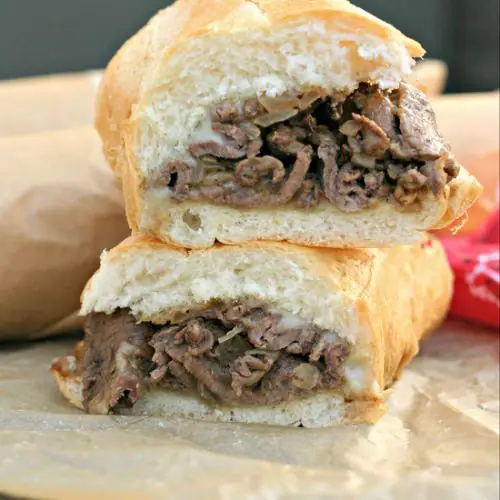 Ingredients
4

T

avocado oil

(or other mild high heat oil)

2

extra large

yellow onions

diced

2

pounds

Sirloin

thinly sliced and cut into 2" pieces

2

teaspoons

salt

2

teaspoons

black pepper

4

hoagie rolls

8

ounces

provolone cheese slices
Instructions
Cut thinly sliced meat into 2" pieces using a kitchen scissors.

Gather rolls and slice 3/4 of the way through from the curved side. Gather cheese slices, salt, pepper and avocado oil.

Place 2 to 3 slices of provolone on each hoagie roll (about 2 ounces total of cheese) and set aside.

NOTE: If you want the cheese super melty, place cheese slices directly on the mounds of cooked meat and onion before placing roll on top.

Heat flat-top griddle or frying pan over medium heat. Once hot, add 2 T avocado oil and diced onions (You may need to cook the onions / meat in 2 batches depending on the size of your griddle / frying pan.) Cook onions for 2 to 3 minutes until they are just beginning to brown.

Add sliced meat. Cook 4 to 5 minutes, using a spatula to continually move around and break up into smaller pieces. Cook until all of the pink is gone. Sprinkle meat and onion mixture generously with salt and pepper.

Separate meat into piles for each cheesesteak. Flip a hoagie roll with cheese on top of each pile.

Allow to cook for 1 to 2 minutes, until cheese is melted and roll has begun to soften.

Use a long spatula to scoop the cheesesteak off the griddle / frying pan. Flip over, add your favorite toppings and serve hot! Enjoy 🙂
Nutrition Facts
Philly Cheese Steak Recipe
Amount Per Serving (1 cheese steak sandwich)
Calories 826
Calories from Fat 369
% Daily Value*
Fat 41g63%
Cholesterol 177mg59%
Sodium 2083mg91%
Potassium 947mg27%
Carbohydrates 39g13%
Protein 70g140%
Vitamin A 500IU10%
Vitamin C 4mg5%
Calcium 516mg52%
Iron 14.9mg83%
* Percent Daily Values are based on a 2000 calorie diet.
UPDATE NOTES: This recipe was originally posted in September of 2017. It was updated in April 2019 with more photos, answers to commonly asked questions, nutrition information and more helpful tips.