I love pot pies, who doesn't though? It is the ultimate cold weather comfort food.
Last winter, I started perfecting my Paleo version of a Pot Pie. I made it with both leftover Thanksgiving turkey and rotisserie chicken and both worked out just fine. I also tried parsnips instead of potatoes and they were somewhat interchangeable (I prefer the potatoes). But the crust was just an issue – I wasn't 100% happy with it. By the end of the season, I retired my ideas and decided to come back to it this year.
Now that it's been cold for a couple of weeks, I figured there was no better time so back into the kitchen to experiment with pot pie dough. I used my savory paleo pie crust as a base recipe and just keep tweaking until I got it where I wanted it.
This final version is perfection. Not overly complicated to make. A rich and creamy savory pot pie filling that is topped with a light and flaky grain free crust. My family could not believe that it was gluten free, grain free and paleo. They also couldn't believe I didn't use flour or any type of thickener for the sauce.
To say that this recipe was a success would be an understatement. As my husband said, "Baby, you hit it out of the park with this one! When are you making it again?"
I can't wait to hear what you guys think!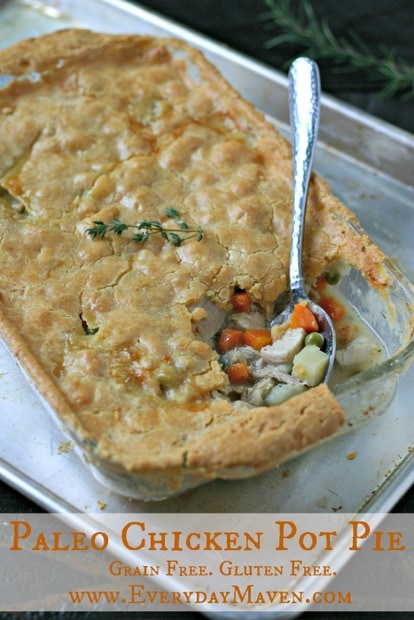 NOTES:
Almond meal (ground raw almonds with their skins on) and blanched almond flour (finely ground blanched and skinless almonds) are different. This pot pie uses blanched almond flour and will not work with almond meal. I have tried it with both Bob's Red Mill Almond Flour/Meal and Honeyville Finely Ground Blanched Almond Flour and both came out fantastic.
Your butter has to be ice cold if you want a flaky crust!
I used rotisserie chicken meat but cubed turkey would also work.
You can make both the filling and dough ahead of time and freeze. I do recommend freezing them separately and placing the dough on right before baking. You may need to adjust your baking time slightly (longer).
Alyssa Brantley | EverydayMaven
Yields 4
Paleo Chicken Pot Pie
20 Points Plus Per Serving -- Serves 4
20 minPrep Time
1 hr, 30 Cook Time
1 hr, 50 Total Time
Ingredients
CRUST INGREDIENTS:

1 cup blanched almond flour
3/4 cup tapioca starch
1/2 teaspoon paprika
1/2 teaspoon finely ground sea salt
1/4 teaspoon gluten free baking powder
1/8 teaspoon ground white pepper
1/4 cup very cold butter
1 large egg
3 Tablespoons ice cold water


POT PIE INGREDIENTS:

1 1/2 Tablespoons butter
1 large yellow onion, finely chopped
1 pound russet potatoes, divided (1/2 lb peeled and cut into 1/2" dice, 1/2 lb peeled and roughly chopped)
1 cup chicken broth
3 small or 2 medium carrots, peeled and cut into 1/2" dice
2 teaspoons kosher salt
1/4 teaspoon freshly ground black pepper
1 pound boneless, skinless cooked chicken meat (or turkey), cubed
2/3 cup frozen English peas
1 teaspoon finely chopped fresh thyme
1/2 teaspoon finely chopped fresh rosemary
Instructions
CRUST INSTRUCTIONS:

In the bowl of a food processor, combine almond flour, tapioca flour, paprika, salt, baking powder and white pepper. Pulse a couple of times to get rid of any lumps.
Using a cheese grater, grate cold butter into flour and spice mixture.
Add egg. Pulse 5 to 6 times so butter and egg are just incorporated. Don't over-mix.
Add cold water and use a spatula to mix in until incorporated.
Transfer dough to a bowl or piece of parchment paper (or wax paper). Place in freezer for 1/2 hour.
Remove dough from freezer. It should be hard and not sticky. Place between two pieces of parchment or wax paper and rolls out to desired size or just your fingers to push into shape you want. I used a single baking dish to cook my pot pie so tried to shape my dough to cover it. You will want to do the same or shape the dough to cover individual dishes, however you plan on baking the pot pie(s).Once you have the shape(s) you need, leave the dough between the parchment paper, place on a flat dish or tray to keep its shape and place back in the freezer for an additional 30 to 45 minutes or until ready to use.

POT PIE INSTRUCTIONS:

PREP:

Finely chop onion.
Peel potatoes, dice 1/2 lb into 1/2" cubes. Roughly chop the other 1/2 lb. TIP: Soak your potatoes in cold water until ready to use. Make sure to drain thoroughly before using!
Peel carrots and cut into 1/2" dice.
Finely chop thyme and rosemary and measure 1 tsp thyme and 1/2 tsp rosemary - combine and set aside

COOK:

Preheat oven to 350F. Heat a large skillet (12") over medium heat until hot. Add butter and then onions. Saute 10 to 12 minutes until soft and translucent, stirring occasionally.
Add 1/2 lb of roughly chopped potatoes (thoroughly drained!) and chicken broth. Raise heat to high until broth is boiling. Immediately lower to a simmer and cook 6 to 8 minutes or until potatoes are just fork tender but still somewhat firm in the middle.
Use a slotted spoon to transfer potato chunks from skillet to a blender or food processor. It's OK to get a little broth and/or onion in there so don't stress about it.
Add the coconut milk to the potatoes in the blender and process until smooth and creamy.
Transfer to a measuring cup or bowl and set aside.
Add carrots and remaining potatoes (cut into 1/2" dice) to remaining broth in skillet along with salt, and pepper. Raise heat to medium and cook for 8 to 10 minutes till vegetables are just starting to soften.
Add cubed chicken, frozen peas and chopped thyme and rosemary. Cook 1 to 2 minutes to heat through.
Slowly stir in creamy potato and coconut milk mixture. Remove from heat and get your baking dishes ready.
I used a glass casserole dish.
Remove rolled out dough from freezer and gently remove from parchment paper one side at a time letting the dough fall onto the pot pie. Scrape the edges a little so that there isn't too much overhang, remove the excess dough from the baking sheet and discard.Use a small knife to cut 2 to 3 slits (if making one big pot pie or 1 slit per individual pot pie) to allow some steam to escape while cooking.
Bake uncovered for 1 hour and 10 minutes or until crust is beginning to brown all over. If you are using individual baking crocks, you may need to decrease the time. Allow to rest for 10 minutes, serve and Enjoy!
7.8.1.2
2444
https://www.everydaymaven.com/paleo-chicken-pot-pie/
Recipe and Photos Copyright of EverydayMaven 2011-2016