It occurred to me to name this recipe "Pantry Chicken Marinade" but I thought I might just confuse everyone. The truth is this Honey Sriracha Chicken Marinade was inspired by using my pantry staples (the ones I ALWAYS have on hand), using a minimum number of ingredients and being flexible enough to be cooked in the oven or on the grill.
Basically, I wanted to create a new recipe to have in my back pocket for those (common) times when I am one or more ingredient away from making a recipe. The ingredients in this marinade are always in my house and I have a feeling a lot of your homes as well.
Sriracha (store bought or homemade), coconut aminos or gluten free tamari, honey, fresh ginger root.
A little spicy, a little sweet and a  nice kick from the fresh ginger.
I think this is going to become a staple in your house too!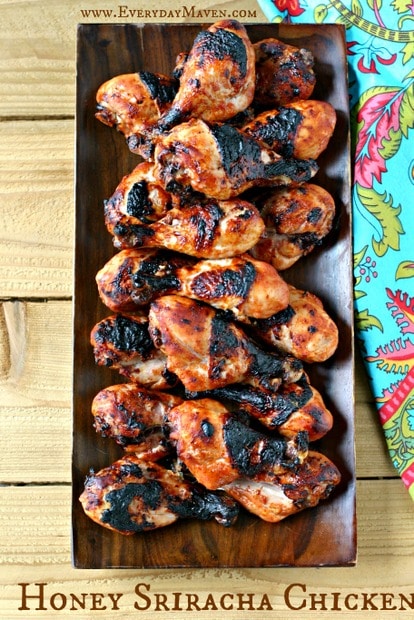 NOTES:
Homemade Sriracha is not hard to make and there are many recipes out there. Some popular ones are Blue Kale Road Homemade Sriracha and Nom Nom Paleo Homemade 20-Minute Sriracha or her Whole30 Sriracha.
There are a lot of clean(ish) store-bought options out there now so if you can get to a Whole Foods, Trader Joe's or other store with a natural food section, you will most likely be able to find a decent one. My local Costco even has huge bottles of this brand for pretty cheap.
You can use any skin-on, bone-in chicken parts you want, it doesn't have to be legs.
If you are not feeding a crowd or don't want to freeze the cooked chicken, feel free to halve the recipe.
Everyday Maven
Yields 12
Honey Sriracha Chicken Marinade
Serving Size is 2 Drumsticks Per Person -- Serves 12
5 minPrep Time
50 minCook Time
55 minTotal Time
Ingredients
6 pounds skin-on chicken drumsticks (approximately 24 drumsticks)
1/2 cup Sriracha
1/4 cup coconut aminos or gluten-free tamari
2 Tablespoons raw honey
2 teaspoons freshly grated ginger root
pinch kosher salt
Instructions
Begin by mixing the Sriracha, coconut aminos, honey, grated ginger root and salt in a bowl until well combined. Set aside.
Use a fork to puncture each chicken leg (or whatever part you are using) 4 to 6 times.
Use 2 gallon-size ziploc bags and place half of the chicken and half of the marinade in each. Seal and toss until chicken is well coated. Refrigerate and marinate for 8 to 24 hours.
Remove chicken from fridge 20 to 30 min prior to cooking. Set oven racks at 2nd and 4th positions and preheat oven to 400F and line two baking sheets with tinfoil and insert raised cooking racks in each.
Arrange the chicken on each rack so that there is ample space between them (to get crispy!).
Cook for 25 minutes. Remove trays from oven, turn chicken and rotate trays when you place them back in. Cook for an additional 20 minutes and remove both trays. Set oven to broil and place one tray in at a time on the oven rack that is set closest to the broiler (in my oven the broiler is at the top so this would be the 2nd position rack). Broil for 5 minutes, remove and repeat with remaining tray. Let cool for a couple minutes, serve and Enjoy!
7.8.1.2
2483
https://www.everydaymaven.com/honey-sriracha-chicken/
Recipe and Photos Copyright of EverydayMaven 2011-2019