Herbed Calamari Salad with Preserved Lemons is the perfect chilled salad to feed a crowd. Easy to make and full a flavor, this Mediterranean inspired dish will please any seafood lover!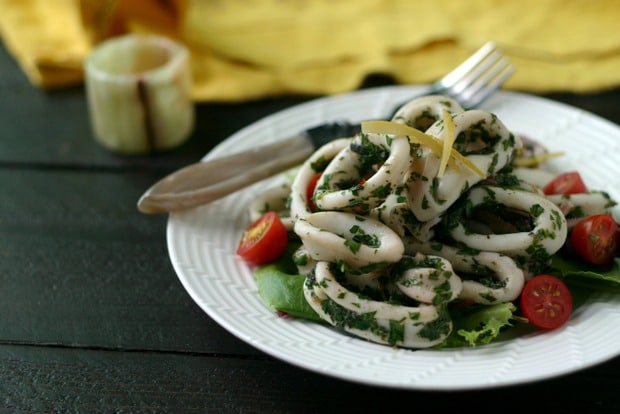 Surprise!
It's a Virtual Baby Shower for my friend Liz from The Lemon Bowl! You may already follow Liz's blog or have heard me mention her a couple of times. Liz and I are kindred food spirits who not only have a deep love for all things Asian, Mexican and Middle Eastern but seem to want to eat every single thing the other posts.
It goes without being said that Liz's Virtual Baby Shower was going to revolve around lemons. I chose the salad course and decided to recreate a dish I shared with my husband at a restaurant over the summer – Herbed Calamari Salad with Preserved Lemons.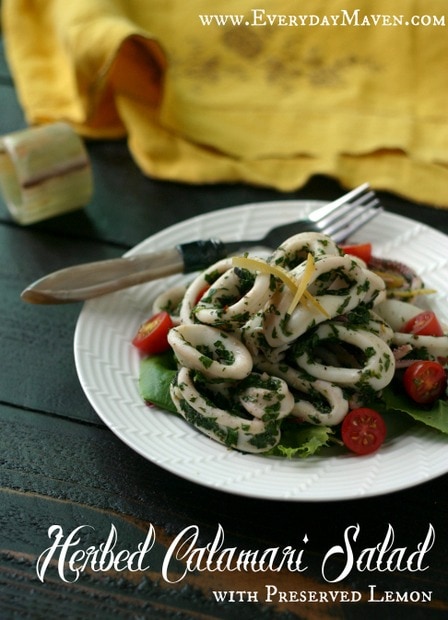 This is not complicated but looks fancy. It feeds a crowd and is served cold – which is always important when you are entertaining.
Be sure to check out all of the Lemon-themed dishes that these other fabulous bloggers made in honor of Liz!
NOTES:
I used this brand of Preserved Lemon. Prices really vary from store to store. Your best bet is usually at a Middle Eastern Market or maybe online. I found them to be very expensive at Whole Foods.
My local Whole Foods Market has this brand of sustainably harvested Calamari in the freezer section. They are already 100% cleaned and trimmed and less then $12 for 2 1/2 pounds! Another great option is usually your local fish store – just make sure to ask for the already cleaned and cut calamari!
If you want to make preserved lemons yourself (it's not hard you just need to plan in advance!), here are some good tutorials.
Did you make this recipe? Please give it a star rating below!
Herbed Calamari Salad with Preserved Lemons
Calamari Salad with Preserved Lemons
Keyword:
Calamari Salad with Preserved Lemons
Ingredients
3

tablespoons

extra virgin olive oil

2 to 3

medium cloves garlic

smashed and minced

2 1/2

pounds

cleaned and trimmed uncooked calamari rings and tentacles

defrosted

3/4

teaspoon

kosher salt

1/4

teaspoon

freshly ground black pepper

pinch

crushed red pepper flakes

juice of 1 large lemon

1/4

cup

finely chopped mint leaves

1/4

cup

finely chopped cilantro leaves

1/2

cup

finely chopped flat-leaf parsley leaves

peel of 1 preserved lemon

thinly sliced
Instructions
To Prepare:
Begin by defrosting the calamari (if purchased frozen). Place in a strainer and run under cold water for 15 to 20 minutes, tossing a couple of times, until soft and pliable. Drain water, pat dry with paper towels and set aside.

Use a paring knife to remove just the rind from the preserved lemon. Discard the inside and thinly slice the rind.

Smash garlic and mince. Finely chop cleaned mint, cilantro and parsley.
To Cook:
Heat a very large skillet or frying pan over medium high heat. Once hot, add 1 1/2 Tablespoons of olive oil. Heat oil and add garlic.

Sauté, stirring constantly, for 20 to 30 seconds until fragrant and add in defrosted and well-drained calamari (If your pan isn't large enough to accommodate all the calamari in one layer, divide the 1 1/2 tablespoons olive oil and cook the calamari in batches. You do not want them to steam, you want them to sear and for that, they must cook in a single layer with some room around them). Sprinkle with a pinch of salt and pepper and continue cooking for 2 to 4 minutes or until opaque and just firm. You do not want to overcook the calamari or it be have a rubbery texture.

Drain off any liquid that is released during cooking and remove cooked calamari to a mixing bowl.

Add remaining 1 1/2 Tablespoons olive oil, salt, pepper, red pepper flakes, lemon juice, preserved lemon rind and herbs to mixing bowl and toss well while calamari still warm.

Adjust seasoning if necessary, cover and chill until ready to serve. This is nice served over some spring greens or other delicate lettuce with some ripe cucumbers or grape tomatoes. Enjoy!
Nutrition Facts
Herbed Calamari Salad with Preserved Lemons
Amount Per Serving
Calories 241
Calories from Fat 81
% Daily Value*
Fat 9g14%
Cholesterol 440mg147%
Sodium 377mg16%
Potassium 503mg14%
Carbohydrates 7g2%
Protein 29g58%
Vitamin A 610IU12%
Vitamin C 18.6mg23%
Calcium 74mg7%
Iron 1.7mg9%
* Percent Daily Values are based on a 2000 calorie diet.