This week's Food Matters Project host is Lexi, from the Lexi's Kitchen. Lexi chose "Mixed Grill with Chimichurri", which couldn't have been more perfect timing for me. We had friends visiting from the East Coast and I wanted to do a casual dinner making sure to use the grill- keeping the house cool and clean up a snap. Especially since, there were going to be six adults and three little kids!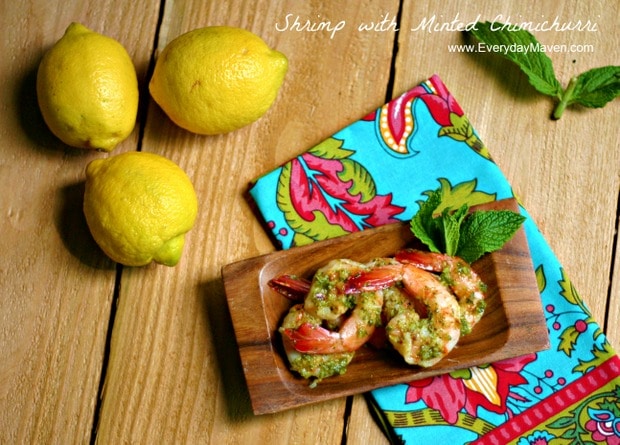 For my version of Mixed Grill with Chimichurri, I chose the freshest, most beautiful Wild Alaskan Salmon. I feel like this is "the" meal to serve out-of-towners. Salmon is magical here in Seattle, particularly at this time of year.I am sure it is better in Alaska but we are pretty damn close. Wait, back up – did I just say, "out-of-towners"? OK, when did I get to not be an out-of-towner? Hmmmm, something to think about.
Back to the recipe, I chose to simply grill Salmon along with marinated tofu, eggplant, zucchini and green beans. I topped all of them with this lovely Minted Chimichurri. I combined my favorite borrowed (Thanks Sharon!) Chimichurri Sauce recipe with Bittman's recipe and by running it by what I had available in my house and garden, I ultimately came up with this Minted version. The extra lemon juice and mint pair perfectly with Seafood.
So where are the beautiful pictures of the Salmon, Tofu and Veggies right?
Well, a little thing called life happened. Life that was a dinner with six adults and three kids under five. AKA, Nine HUNGRY people who hadn't seen each other in (way too) a long time and had no time for food pictures to be taken.
What's a food blogger to do?
Eat, of course!
The dinner was so much more important.
Having a full dining room table full of love, friends and laughter was priceless so I let go of stressing out over taking the pictures and decided to use the leftover Chimichurri to make these Shrimp the next day.
Moral of the Story:
People are ALWAYS more important.
This Chimichurri is awesome with everything from Salmon to Tofu to Veggies to Shrimp.
NOTES:
This sauce keeps in the fridge for about a week and freezes well.
The Salmon and Vegetables were grilled with just a sprinkle of kosher salt and black pepper and a mist of olive oil. The tofu was marinated for a couple of hours in the sauce.
I cooked the Extra Large Shrimp (deveined and peeled with tails intact) in a cast-iron grill pan for about 2 to 3 minutes each side. Also sprinkled with a touch of kosher salt and black pepper and a mist of olive oil. Then tossed them with Chimichurri and served as an appetizer. This would also be nice chilled or served atop a salad. I used 1 teaspoon of Chimichurri sauce per serving of Shrimp.
Vital Choice is a great online source to purchase sustainable seafood of all kinds!
To see what all of the other Food Matters Project members cooked up this week, head over here!

Alyssa Brantley
Yields 15
The Food Matters Project: Minted Chimichurri Sauce
1 Point Plus Per Serving -- Serves Approximately 15 -- Individual Serving is 1 teaspoon
Ingredients
1 clove garlic
1 large shallot
1/2 cup packed parsley leaves
1/4 cup packed mint leaves
2 tablespoons oregano leaves
2 medium lemons, juiced
3/4 teaspoon kosher salt
1/4 teaspoon freshly ground black pepper
1/8 teaspoon crushed red pepper flakes (or more to taste)
1/4 cup extra virgin olive oil
Instructions
Toss garlic and shallot in bowl of food processor and process until finely chopped.
Add in remaining ingredients and process until smooth.
Serve over fish, tofu, veggies or shrimp and Enjoy!
7.8.1.2
2567
https://www.everydaymaven.com/the-food-matters-project-mixed-grill/
Recipe and Photos Copyright of EverydayMaven 2011-2019