Chances are you probably know someone who is Diabetic. Maybe someone in your family, a friend, a co-worker or even yourself. Or maybe just pre-diabetic. My grandmother was Diabetic and wound up having her leg amputated and then passing away from complications. I also have a cousin who was diagnosed with Type 1 Diabetes as a very young child.
Most people with Diabetes have Type 2 Diabetes, which is mostly preventable and can be controlled with a low-carb and low-sugar diet along with exercise (source).
Why is Diabetes such a big deal?
Nearly 30 million children and adults in the United States have diabetes
Another 86 million Americans have prediabetes and are at risk for developing type 2 diabetes
Recent estimates project that as many as one in three American adults will have diabetes in 2050 unless we take steps to stop diabetes
People with diabetes are nearly twice as likely to be hospitalized for a heart attack or stroke
Diabetes causes nearly 50% of all cases of kidney failure
More than half of all amputations in adults occur in people with diabetes
More than half a million American adults have advanced diabetic retinopathy, greatly increasing their risk for severe vision loss
Luckily, I have never had any blood sugar issues and since we moved to an even lower-carb and low-sugar diet, I feel like we are on the right track to continue avoiding the possibility of being diagnosed with Type 2 Diabetes. But that isn't the case for everyone and since this month is Diabetes Awareness Month, I teamed up with A Sweet Life to help bring awareness and to share a low-carb and low-sugar recipe to encourage people to make better food choices.
These Spicy Buffalo Mixed Nuts are quick to make and full of flavor. Perfect for parties, watching the game or just grabbing a handful for a quick snack. You can easily adjust the spice level by altering the amount of ground cayenne and won't believe how "Buffalo" like they taste with just a couple sprinkles of powdered blue cheese.
Head over here to A Sweet Life for the recipe and see below for details about the Le Crueset Giveaway!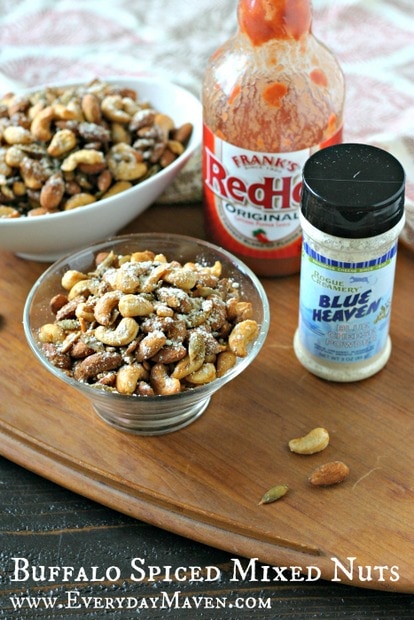 ASweetLife is thrilled to team up with LeCreuset for a Diabetes Awareness Month giveaway.  To promote home cooking (and fewer fast food meals), we're raffling off Le Creuset's signature 1/2 qt. round French oven (in blue, the color of diabetes awareness!). The generous size is indispensable in any working kitchen, easily accommodating classic recipes like chicken soup or beouf bourguignon.
Also known as a Dutch oven, this updated kitchen classic enhances the cooking process by evenly distributing heat and locking in the optimal amount of moisture. With ergonomic handles and an advanced interior enamel that resists chipping and cleans easily, Le Creuset's French ovens blend the best of the past with the latest innovations in comfort and functionality.
 To Enter the Le Creuset Giveaway CLICK HERE!
Disclosure: I was compensated by A Sweet Life Diabetes Magazine for my participation in this campaign to raise awareness about diabetes. National Diabetes Day is November 14th.