Right now, all I have been wanting is soup. For lunch. For dinner. In a mug as a snack. Not too surprising since I am always proclaiming my undying love for soup and it's been cold and grey here lately. Not nearly as cold as most of the country (I feel for you!) but cold for here.
This Paleo Shrimp Soup was conjured up one chilly afternoon last week after grocery shopping. I noticed a pound bag of Wild Oregon Bay Shrimp on sale for $5.99 and grabbed them. I knew I had some broth in the fridge and would make some type of Asian influenced soup for lunch.
It had to be quick because I promised my son we would play Legos and I couldn't spend more than half an hour total on this soup project.
The beauty of this soup is in the ingredients. The Wild Oregon Bay Shrimp come completely cleaned and already cooked so they just need to be reheated, snow peas cook in minutes and there isn't really any other major chopping or prep happening. You just need some good stock you can bring to a boil, some aromatics and spices.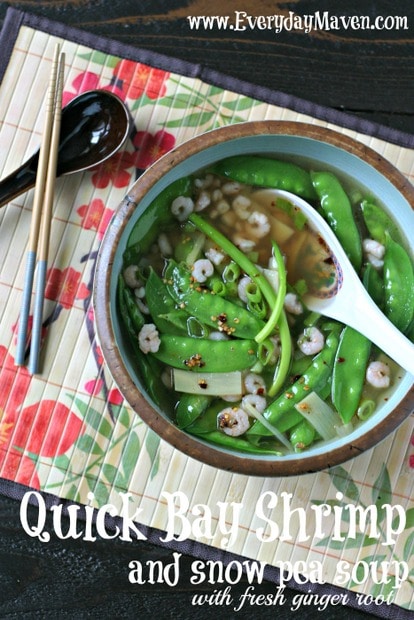 NOTES:
I am loving Red Boat Fish Sauce. Try to find it somewhere other than Amazon though because for some reason they don't have a good price on it!
Wild Oregon Bay Shrimp are readily available all over the West Coast. Since they are often cooked and sold frozen, they are probably available in most parts of the US. They are also called "Pink Shrimp" and are a "Best Choice" according to the Monterey Bay Seafood Watch.
[mpprecipe-recipe:2525]