Since I will be massively pregnant this year for Thanksgiving, not only are we not traveling to see family on the East Coast but I am not even cooking. Well, sort of. I am still making a side dish or two and maybe (we'll see how I feel!) a dessert. Luckily for us, my husband's gracious friends have invited us to join their Thanksgiving celebration and they have young kids so it should be a lot of fun for my son.
I still haven't decided what side dish(es) I am making and was browsing through my website as well as the sites of some of my food blogger friends for ideas and decided to share them with you because with Thanksgiving only two weeks away (right!?). You all must be thinking the same thing about what you are going to cook or bring to someone else's house!
All of the recipes below are Paleo and / or Primal (some dairy) and free of processed ingredients and junk. I broke it down into sections to make it easier for you to find what you need!
Hope this is helpful for you! 
Appetizers + Snack Foods for Grazing
Deviled Eggs with Truffle Salt from Everyday Maven
Pepperoni Stuffed Mushrooms from Everyday Maven
Persian Cucumber Bites with Lox and Dill Cream Cheese from Everyday Maven
Rosemary Mixed Nuts with Cranberries from Everyday Maven
Smoked Salmon on Sweet Potatoes with Sour Cream and Dill from The Tomato Tart
Stuffed Figs with Chevre and Honey from The Tomato Tart
Pears with Smoked Goat Cheddar and Spicy Jam from The Tomato Tart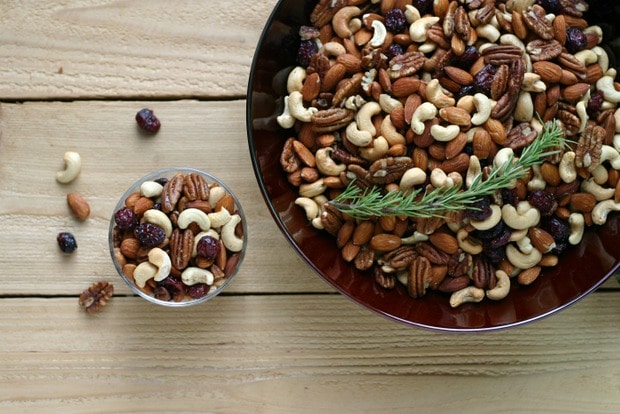 Cocktails + Mocktails
Harvest Sangria from Everyday Maven
Mulled Wine from Joyful Foodie
Dairy Free Egg Nog from Paleo Parents
Cranberry Spice Tea from Gourmande In The Kitchen
Green Apple Ginger Martini from Gourmande In The Kitchen
Soup
Turkey Soup with Sweet Potatoes and Peas from Everyday Maven
Roasted Butternut Squash Soup with Crispy Leeks from Everyday Maven
Pumpkin Carrot Soup with Curried Pumpkin Seeds from Olive and Herb
Salad
Fall Harvest Roasted Pear, Walnut and Kale Salad from Tasting Table
Caramelized Onion, Pear and Goat Cheese Salad with Maple Vinaigrette from Neighbor Food Blog
Maple Roasted Acorn Squash Salad with Pomegranate Vinaigrette from The Healthy Maven
Arugula Salad with Lemon Balsamic Dressing from Everyday Maven
Sides
Candied Sweet Potato Latkes from Everyday Maven
Vegetarian Shredded Brussels Sprouts with Crispy Shallots from Everyday Maven
Maple Mashed Sweet Potatoes from Everyday Maven
Roasted Green Beans with Herbs and Scallions from The Domestic Front
Cranberry Chutney from The Tomato Tart
Umami Gravy from Nom Nom Paleo
Sweet Potato Bacon Biscuits from Running To The Kitchen
Best Ever Paleo Stuffing from Zen Belly
Roasted Brussels Sprouts with Pomegranate from The View From the Great Island
Caramelized Brussels Sprouts with Dark Cherry Sauce and Hazelnuts from An Edible Mosaic
Paleo Friendly Green Bean Casserole from Eat The Love
Main Course
Everyday Brined and Roasted Turkey from Everyday Maven
Dry Brined Roast Turkey from The Domestic Front
How To Cook A Smoked Ham from Everyday Maven

Desserts
Grain Free Apple and Cranberry Crisp from Everyday Maven
Maple Cashew Clusters from Everyday Maven
Grain Free Hazelnut Brownies from Everyday Maven
Crustless Pumpkin Pie Bites from Joyful Foodie
Paleo Pumpkin Pie (it's amazing!) from Everyday Maven
So, what are you making this Thanksgiving?