Northern Thai Curry Soup with Chicken. A coconut milk based soup loaded with rice noodles and topped with bean sprouts, cilantro, red onion and lime! Made in partnership with New Seasons Market.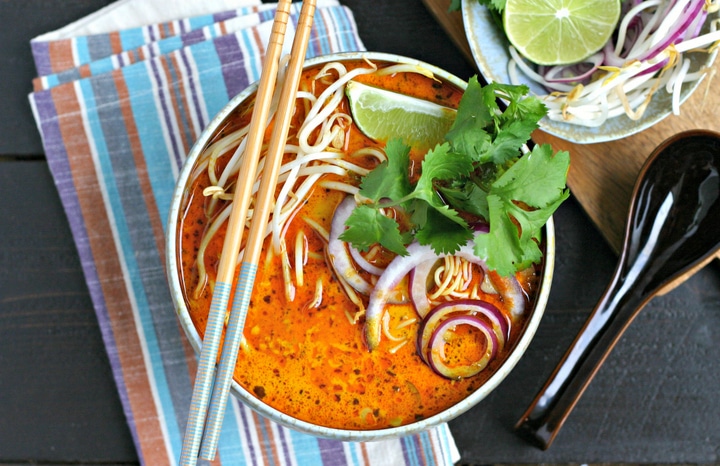 We are literally days away from Hanukkah and Christmas and there are so many last minute things to do. I was feeling really behind but my husband and I had an epic gift-wrapping and prep session the other night and now I'm feeling sort-of-kinda-prepared.
Admittedly, this year is totally insane because Hanukkah and Christmas overlap and we celebrate both.
One thing that always comforts me is soup. One of the great things about soup is that you cook once and eat twice (or more!) and with everything left to do over the next few days, there is nothing better than having a delicious soup ready to reheat in the fridge!
I clipped a recipe for Chicken Khao Soi from Bon Appétit Magazine a couple of months ago and was determined to make an easier, cleaner and gluten free version.
After playing around with it a bunch of times, I came up with this Northern Thai Curry Soup with Chicken. My version is actually quick to make and doesn't require any extraordinary ingredients that are super difficult to source.
One of the optional ingredients is fresh curry leaves. Like I said above, they are not required but they add an additional layer of flavor to the soup. If you live in or around Seattle, you can hit up New Seasons Market (see NOTES below for location info) for everything including fresh curry leaves from their HERB BAR.
You guys – I know I have talked about it before but seriously, the herb bar is my everything. Organic herbs by the ounce so you only buy what you need. This is THE BEST THING EVER.
Last week I made a whole roast chicken and just wanted a few sprigs of thyme, sage, and rosemary. Normally, this would be $7+ because I would have to buy those little plastic packages that cost $2.50 each. But, you know where I am going with this — I got all three herbs – exactly what I needed for my chicken for $1.17. Right?
I've been working with New Seasons Market for a few months now and I have to say, my only complaint about the market is that it isn't a mile from my house. If you haven't checked it out yet, you have to get over there.
New Seasons also has a home goods section. In fact, I got the gorgeous bowls and props I used to style this soup from there. Now, every store is different and they try to stock as many local and regional products as they can so I can't guarantee that the store closest to you will have these exact items BUT if you head to Mercer Island, they have them and they are gorgeous!
I do recommend making a double (or triple!) batch of the curry paste and freezing it for future batches. Then, this soup is even quicker to throw together!
NOTES:
New Seasons Mercer Island is off the I-90, ¼ mile south of Exit 7A.
For a Low Carb or Paleo version, omit the rice noodles and use spiralized vegetable noodles.
If you plan to store some soup in the fridge or freezer for later, keep the rice noodles separate as the continue to absorb the broth if they sit in it.
Ingredients
CURRY PASTE:

4 large dried New Mexico chilies, stems off, seeds removed and soaked
large handful cilantro leaves
6 medium cloves garlic
2 large shallots
2" piece ginger root
1 T turmeric
1 T ground coriander
1 T curry powder
1 teaspoon kosher salt

SOUP:

2 T virgin coconut oil
2 (14 ounce) cans full fat coconut milk
4 cups low sodium chicken broth
1 1/4 pounds boneless, skinless chicken thighs, cut into bite sized pieces
1 1/2 T fish sauce
1/2 T coconut palm sugar
1 teaspoon kosher salt
8 ounces rice noodles, soaked
3 to 4 fresh curry leaves (optional)

TOPPINGS:

fresh cilantro
bean sprouts
limes
red onion, thinly sliced
Instructions
CURRY PASTE:

Trim ends of chilies and slice in half lengthwise. Knock seeds out and place chile pods in boiling water for 20 to 30 minutes.
Combine soaked chilies, cilantro, garlic, shallots, ginger, turmeric, coriander, curry powder and salt in the bowl of a food processor fitted with the chopping blade.
Process until smooth. You may need to scrape down the sides a few times. If you need more liquid, add some of the chile soaking liquid to loosen. Add 1 to 2 T at a time until desired consistency is reached. It should be smooth and thick enough to coat the back of a spoon when dipped in.
Set aside until ready to cook soup.

NOODLES:

Soak noodles according to directions on box. Usually 20 to 30 minutes in very hot water.

SOUP:

Heat coconut oil in a large soup pot over medium heat. Once hot, add all of the curry paste. Saute for 2 to 3 minutes, stirring constantly, until fragrant.
Add coconut milk and broth. Bring to a boil.
Once boiling, add cubed chicken, cover, reduce heat and simmer for 20 to 25 minutes, until chicken is cooked through.
Remove from heat and immediately add curry leaves (if using).
Next, add fish sauce, coconut palm sugar and salt. Stir to dissolve, taste and adjust if necessary.
Drain soaking noodes and divide among 6 bowls. Ladle broth and chicken over noodles and top with fresh cilantro, bean sprouts, lime, and thinly sliced red onion. Serve hot and Enjoy!
7.6.4
2951
https://www.everydaymaven.com/2016/northern-thai-curry-soup-with-chicken/
Recipe and Photos Copyright of EverydayMaven 2011-2016
DISCLOSURE: This post is part of a series of sponsored posts in partnership with New Seasons Market. New Seasons has compensated me for my time to develop this recipe and to tell you about my personal experience with their stores. All opinions are my own. Thank you for supporting the brands that make EverydayMaven possible.