More cheese right!? I know! Cheese is totally my nemesis. I don't know about you but I think cheese hates me as much as I love it. The worst part is that I have been craving it off and on like crazy during this whole pregnancy.
It's a tough one for me because I love cheese. It's also tough because I really love cheese.  Did I mention I LOVE cheese? But the reality is that I always feel better, sleep better, have less congestion and clearer skin when I avoid cheese.
Even with all the that, I have been eating more cheese than ever lately. I don't feel horrible by any means and I think when you are pregnant you should (mostly) listen to your cravings and what your body is asking for but I know come late January when this baby is born, one of the first things I will clear out of my diet is the cheese.
So, in the meantime, let's make these Cheesy Stuffed Delicata Squash.
This is a super easy recipe that is meant to be mostly hands off. Yes, the stuffed squash need about an hour to cook in the oven but the prep work and putting them together takes all of about 10 minutes. If you are really organized and you prep this the night before or early in the AM, this could very easily be a yummy, comforting weeknight dinner.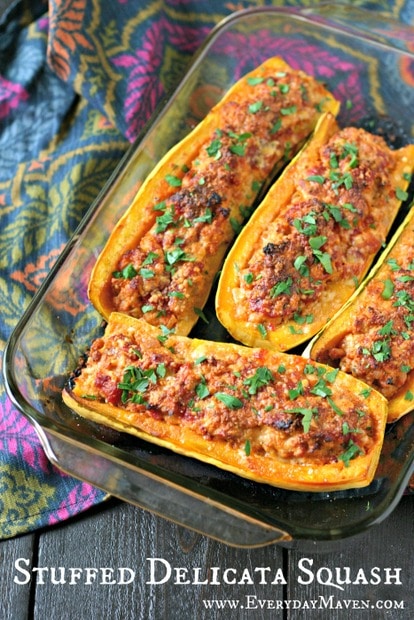 NOTES:
I used Isernio's Mild Italian Chicken Sausage for this dish. Isernio's had a huge presence at this years IFBC Conference and gave away coupons for free sausage. I buy a lot of their products and do tend to stick with the sausage links but this product was really easy to open and crumble for this dish.
Delicata Squash is my favorite for this dish because you can eat the skins!
My favorite jarred pasta sauce is Trader Joe's Arrabiata Sauce. You can use any jarred pasta sauce (or homemade) that you like, just look for one that doesn't have additives, preservatives or a ton of sugar.
You can definitely swap ground beef, turkey or chicken for the sausage but you will need to add mores spices since sausage is seasoned.
As far as grated cheese goes, my favorites are Pecorino Romano or Locatelli.
Everyday Maven
Yields 4
Cheesy Stuffed Delicata Squash
10 Points Plus Per Serving -- Serves 4
10 minPrep Time
1 hr, 5 Cook Time
1 hr, 15 Total Time
Ingredients
2 large delicata squash, halved lengthwise, seeds removed
1/2 Tablespoon olive oil
1 medium yellow onion, chopped
1/2 teaspoon kosher salt
20 turns freshly ground black pepper
pinch crushed red pepper flakes
1 pound Italian Chicken Sausage, crumbled
3/4 cup whole milk ricotta cheese
1 cup pasta sauce plus 4 Tablespoons for topping (see NOTES)
4 teaspoons grated Pecorino Romano cheese
fresh chopped parsley for serving
Instructions
PREP:

Halve squash and use a spoon to remove seeds and stringy insides, discard. Place squash halved in a large (9 x 13) Pyrex style glass baking dish and rub each with a tiny bit of olive oil then sprinkle with a pinch of salt and pepper.
Chop onion.

COOK:

Preheat oven to 400F. Heat a large skillet (12") over medium high heat. Once hot, add olive oil and then onion, salt, pepper and crushed red pepper flakes. Saute, stirring frequently, 10 to 12 minutes or until onion is just starting to brown.
Add crumbled sausage. Use a wooden spoon or spatula to break up any large pieces and cook 5 to 6 minutes, stirring frequently, until there is no pink visible.
Remove from heat and add ricotta cheese and 1 cup of sauce. Stir until well combined.
Spoon beef mixture into cavities of squash. Top each with a Tablespoon of sauce. Sprinkle each with 1 teaspoon of grated cheese and place in the oven.
Bake uncovered for 45 to 55 minutes (depending on the size of squash) or until squash is fork tender and topping has started to lightly brown.
Finish with a bit of chopped parsley, serve and Enjoy!
7.6.4
2445
https://www.everydaymaven.com/2014/cheesy-stuffed-delicata-squash/
Recipe and Photos Copyright of EverydayMaven 2011-2016