This post has been a long time coming!
Months ago, Stacy from Paleo Parents contacted me and asked if I would be interested in receiving a review copy of their soon-to-be-released book, "Beyond Bacon".
Little did she know that I was in the middle of a personal pork crisis and had just reintroduced pastured and sustainably raised pork back into my diet (read this post for more on that) after almost 20 years of abstaining from it.
There truly couldn't have been a better time for me to read Beyond Bacon.
Beyond Bacon is not just a cookbook, it is a manifesto for eating high-quality Pork and honoring and respecting the animal by cooking nose to tail with little to no edible waste.
I dug right in, literally, and have made over a half dozen recipes from Beyond Bacon including, "Asian Short Ribs", "Rendering Your Own Lard", "Pork Stock", "Egg Drop Soup" and "Cracklin' Pork Belly". If you follow my Instagram, you likely have seen me post some of them.
Each one was better than the next and I feel that I have learned so much about Pork and how to use many of the different parts of the pig that had seemed scary to me.
I should tell you I had planned to share the Asian Short Ribs with you but I had a difficult time sourcing Pork Short Ribs. Then I tried to make them with Country Ribs and let's just say that was a disaster (cooking times are really different). Finally, I was able to make them but couldn't take any photos as we had company and it was dark by the time we ate.
So, Paleo Spaghetti Carbonara it is! I showed my little guy a list of approved recipes to share and he went right for this one.
I find it personally ironic and appropriate that the recipe I decided to share is Bacon based. Ironic because one of the main messages of the book is to go beyond bacon and learn how to cook, appreciate and eat a large variety of cuts. Appropriate because in so many ways I am a pork newbie and eating bacon makes me wonder why I was ever vegetarian and didn't eat pork.
This cookbook is for you if (you can buy it here)…
you love Pork.
you care about using high quality ingredients.
you want to avoid recipes with gluten, wheat, grains, legumes and dairy.
you evenly remotely care about the quality of the Pork you eat and support sustainable farming.
you want creative, tasty recipes that feature cuts from the whole animal (Beyond Bacon, get it?)
you want to learn how to buy a whole pig (or half, etc.), what cuts to ask for and the lingo.
NOTES:
Spaghetti Squash is not readily available right now so I substituted Zucchini Noodles (which also shortened the cooking time).
I also poured off all of the bacon fat (to save) except for 2 Tablespoons and found that to be plenty.
If you like a bit of spice, a touch of crushed red pepper flakes is great!
Reprinted with permission from "Beyond Bacon: Paleo Recipes That Respect the Whole Hog" by, Stacy Toth and Matthew McCarry

Everyday Maven
Yields 4
Paleo Spaghetti Carbonara
15 minPrep Time
40 minCook Time
55 minTotal Time
Ingredients
1 medium spaghetti squash
3/4 pound nitrate-free bacon
1 Tablespoon arrowroot powder
1/2 cup full-fat coconut milk
6 eggs
1 teaspoon dried basil
1 teaspoon dried oregano
1 teaspoon dried marjoram
1 teaspoon dried parsley
1 teaspoon kosher salt
1/4 teaspoon garlic powder
1 Tablespoon Lard
1 Tablespoon fresh flat leaf Italian parsley, chopped
Instructions
7.6.4
2153
https://www.everydaymaven.com/2013/paleo-spaghetti-carbonara/
Recipe and Photos Copyright of EverydayMaven 2011-2016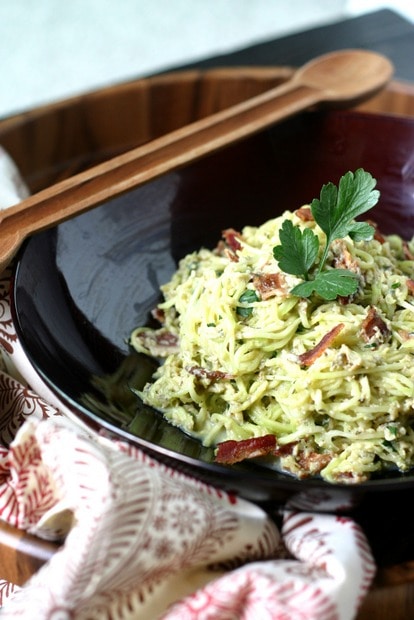 P.S. We are hosting a NuNaturals Stevia giveaway (open WORLDWIDE) on our BLEND site!!! Head here to find out more and enter. Good Luck!