Yes, SEVEN restaurants in a two day period. Insane right?
In March, I was fortunate enough to receive an opportunity to head to Canada for the weekend for an Asian food tour of Richmond, B.C.
Richmond is a suburb of Vancouver. It is an uniquely beautiful place where 65% of the population is ethnically Chinese. Now, if you have followed me for any length of time, you have probably heard me whine on and off about how incredibly difficult it is to get excellent Chinese Food here in Seattle.
When Tourism Richmond offered me the luxury of venturing up to B.C. to eat all the Asian food I could manage, I jumped at the chance. Did I mention that this also meant a weekend alone, in a hotel room, using the bathroom and shower without any interruptions and sleeping in till I felt like waking up? You know I have a toddler right? Um, let's think about this one – OK, yes. Sign me up. Please and Thank You.
While I had planned to take copious notes of all the various dishes and restaurants, I was completely overwhelmed and unprepared for the sheer number of places we would wind up dining at and the high-volume of some of those meals. I am talking 10-course lunches, 15-course dinners and mini-meals in between.
I quickly ditched my pen and book and just kept snapping iPhone pics to fill both my Instagram and memory with my favorite dishes and experiences. Words would have to wait.
This post isn't meant to be a complete recap because honestly, I don't think you want to read a four-page post with like 90 pictures of food sans recipes.
This is meant to be more of a, "if you venture to Richmond, B.C., you HAVE to eat this…" and "if you go to Vancouver, and love Asian food, DO NOT miss Richmond!" post.
This is a list of the main places we ate at. I say, "main" because there were also mini-pit stops at the hotel bar, Asian Mega-Markets, Jerky huts, dried foods stalls and random tea and coffee consumption.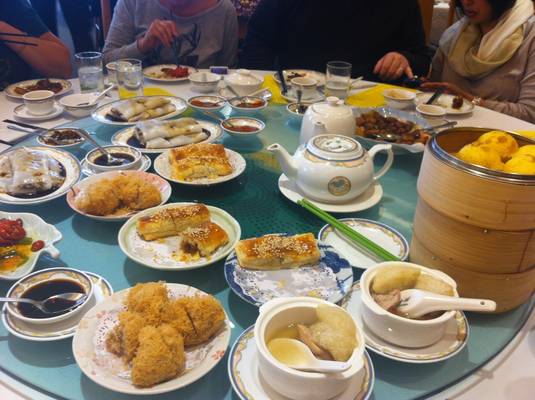 OK, so now what? Let's assume you are in the area and want to eat like a normal person; I ate 70 meals so you wouldn't have to!
Your CAN'T MISS restaurants are Haroo (Family Style Korean) and Vivacity (Family Style Cantonese). 
I would go to Haroo for brunch or lunch – honestly, EVERY single dish we had there was amazing and we had 12 or 13 so I am going to be bold and say you can't go wrong. If you are a Beef eater, the Spicy Beef Bulgogi was off the hook. (Sigh!)
At Vivacity (go for dinner), splurge if you can and get a Dungeness Crab. They have many different ways of preparing it to use up the entire Crab. One of my favorites was the Dungeness Crab with Lobster and Fried Garlic. That may have tied with the Salt & Pepper Fried Crab Knuckles. Or maybe the Portuguese Stuffed Crab Shell. Do not leave there without ordering their Seafood Hot & Sour Soup. I am somewhat of a Hot & Sour connoisseur and theirs was spot-on.
You have to work some tea in there, so stop by Ten Fu for some loose tea to bring home and a cup of hot tea to go. Alternately  head over to Cattle Cafe for some Hong Style Tea and share a bowl of the Laksa if your appetite is big enough.
No trip to Richmond is complete without a side excursion to the quaint and adorable seaside Steveston Village. The weather was perfect while we were there so a bunch of us hopped cabs and took the 10-minute car ride over to Steveston. We wandered around and found our way to a lovely outdoor deck for some celebratory wine, beer and sunshine. Simply Magnificent!
My last recommendation is to spend some time at The International Buddhist Temple. This is one of the most beautiful and serene Temples I have ever seen. Our tour guide said it is one of the largest Buddhist Temples in North America.
I am laughing at myself right now because this post is still ridiculously long and barely covered 1/6 of our itinerary. I hope that anyone who is planning an excursion to Richmond finds this useful and eats well.
As for me, I am working on planning another visit – this time with my husband. I want to head up there this summer to experience the Summer Night Markets.
Richmond Night Market and the International Summer Night Market
Have any of you ever gone to the Night Markets and if so, tell me more about them!!