Slow Cooker Roast Beef with Easy Gravy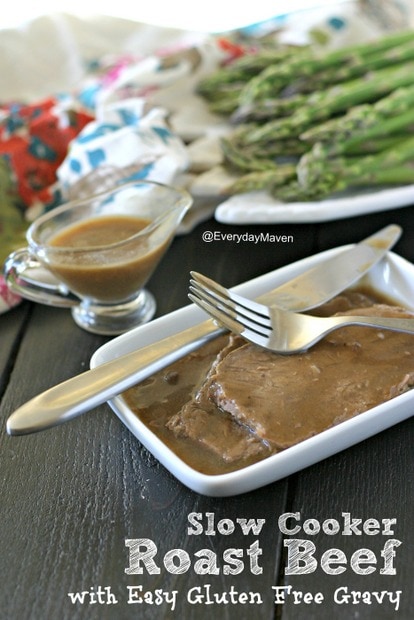 3¼ to 3½ pound rump roast
8 medium cloves garlic, chopped
1 large yellow onion, chopped
8 ounces mushrooms, cleaned and roughly chopped
2 teaspoons kosher salt
½ teaspoon freshly ground black pepper
1½ Tablespoons gluten free Worcestershire Sauce
3 cups broth or stock
8 to 10 sprigs fresh parsley, thyme or rosemary
2 cups reserved cooking liquid
2 Tablespoons arrowroot starch + 2 Tablespoons cold water
2 Tablespoons butter
salt and pepper to taste
*I used a 6.5 Quart Slow Cooker and think that a 6 Quart would also work. Anything smaller and you would need to modify the recipe.*
Begin by chopping the garlic, onion and mushrooms. They can all be roughly chopped as you will be straining them out at the end of cooking. I used my food processor to save time. First I put in the garlic and processed, then onion and pulsed a couple times. I removed the garlic and onion to the slow cooker and finished by pulsing the mushrooms.
Place chopped garlic, onion and mushrooms into the slow cooker along with kosher salt, black pepper, Worcestershire Sauce and stock. Mix until well combined.
Now, gently place rump roast in the center of the liquid and vegetable mixture, making a bit of a divot for it so it's nestled deeply in the liquid. Add in the fresh herbs, making sure they are submerged in liquid as well.
Cover and cook undisturbed on LOW for 8 hours.
Once meat is cooked, remove from cooking liquid to a cutting board and tent with tinfoil until ready to slice. Strain liquid into a measuring cup and discard cooked vegetables.
Pour 2 cups of cooking liquid into a saucepan and bring to a boil. Once boiling, reduce heat to a simmer and cook for 20 to 25 minutes, stirring occasionally, until reduced by about half.
Mix arrowroot and cold water together and begin to slowly whisk into the gravy. As soon as the gravy appears to thicken, remove from heat. Finish by whisking in the butter and adjusting the salt and pepper to taste.
Slice the roast beef (against the grain) on angle and serve topped with gravy. Enjoy!
Recipe by
EverydayMaven™
at http://www.everydaymaven.com/2014/slow-cooker-roast-beef/