{Slow Cooker} Basic Chicken Stock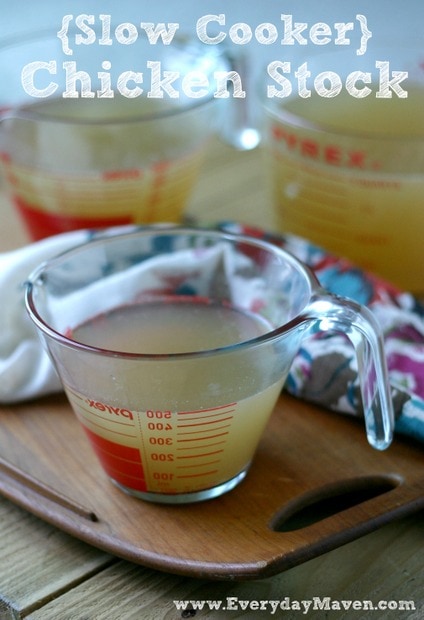 2 or more (see NOTES) chicken carcasses from roasted chicken plus any raw backs, necks and wings
1 Tablespoon apple cider vinegar
20 cups filtered water
2 Tablespoon kosher salt
6 to 6.5 Quart slow cooker
fine mesh strainer
mason jars or other glass storage containers
Place the chicken parts in the slow cooker along with the apple cider vinegar and water. Let sit for 30 to 45 minutes.
Add kosher salt, cover, turn on slow cooker to high and set for 4 hours. If you are home when this comes to a boil, skim the surface for the next ten minutes. If not, don't stress out about it and do it later.
When time is up, remove lid and skim surface if needed. Place lid back on and set to low for 18 to 20 hours. Allow to cook undisturbed.
Once stock is done and slightly cooled, strain into a large soup pot through a fine mesh strainer. It is easier if you use a tongs to remove any large bones and parts (less splashing / mess).
From here I transfer the stock to freezer safe mason jars, let cool completely before putting the lids on and place in my fridge or freezer. It's that easy!
Recipe by
EverydayMaven™
at http://www.everydaymaven.com/2013/slow-cooker-chicken-stock/