Have you ever read one of my recipes and just wished I could make it for you? If so, August 5th  is your lucky day!
I have committed to baking a couple dozen of my Perfect 2-Point Peanut Butter Cookies (add-ins are winner's choice!), packinging them up all pretty,  adding a card and/or another surprise and shipping them to you!!!
All you have to do is win the bid for them.
Let me explain. If you follow me on Facebook, you may have seen me talk about Cody last week.  Cody is 4 years old and is fighting Neuroblastoma. Neuroblastoma is a horrible cancer.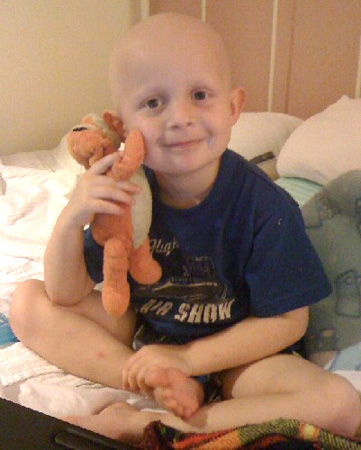 Why, for the life of me,  any child would ever have cancer I will never ever understand.
Cody's amazing Aunt Stephanie is holding an online Bake Sale all week to benefit Cody and his parents. Over 70 generous Food Bloggers and Cookbook Authors have donated dozens of baked goods and autographed cookbooks.
Check out this list to see what all is available to bid on. My cookies are there, of course. Please help Cody and let me bake these cookies for you.
Here is how it works…
The bidding will be held virtually on Stephanie's Facebook page. There are three groups of photos of the items for sale.
Traditional baked goodies (this is where my cookies are!)

Gluten-free/Vegan baked goodies
Cookbooks, gift baskets, cool kitchen items
Choose the "album" you want to look at and click through the photos to see what's for sale. Make a bid by leaving a comment with your bid amount. Bidding begins at $10 for each item, and we're asking you to bid in $5 increments from there.
Whoever has the highest bid at 5 pm Pacific time on Sunday, August 5th wins that item.
You will be contacted through Facebook and asked to make your donation to the family's website using PayPal (you can use a credit card through PayPal/add "Cookies for Cody" in the message line). Once you've made your donation, your items will be freshly made and shipped to you. Cookbooks will be autographed with the wording you request (unless otherwise noted).
Alternately, if you don't want to bid on anything and would rather make a donation, click here anytime.
Please note that DONATIONS ARE NOT TAX-DEDUCTIBLE
THANK YOU,
Alyssa, Everyday Maven